The best podcasts for small business owners
---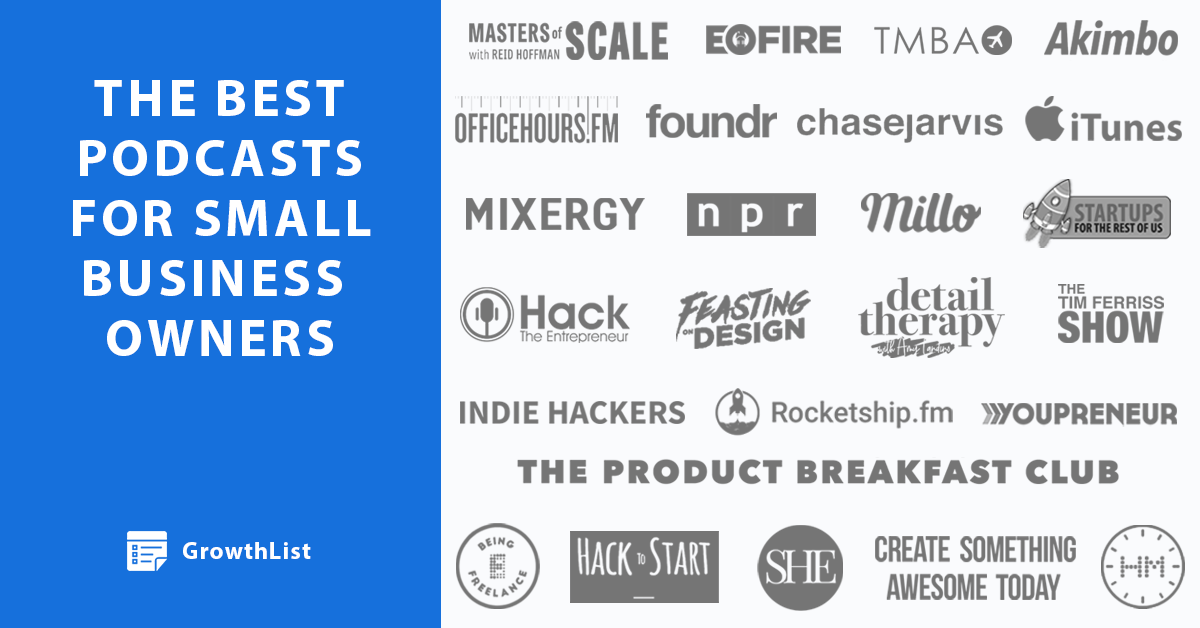 A carefully curated list of the best podcasts for small business owners
As a small business owner, it is important to keep moving forward. One of the most effective ways in which to do this is through educating yourself on techniques to improve the optimization of your business. Keeping up to date with what is happening in the business world, as well as listening to successful entrepreneurs will help you to find creative and dynamic methods in which to push the boundaries of your operations.

Podcasts are a really efficient way to get some of that good knowledge into your brain. There are a myriad of podcasts aimed at small businesses with various different formats. While some podcasts will aim at providing information on advances in different fields, others are laid out as long-form conversations with industry experts and successful business owners. Many of these discussions open up debate about issues that all business owner struggle with, providing you with insider advice on how to manage these turmoils and work through to come out on top.

If you're on the hunt for listening material to spark innovation in your brain, here are a few of the best podcasts for small business owners currently putting out material today. Delving into a whole menagerie of real-world concerns and achievements, these podcasts are both informative and inspiring; so take a listen!

A real favorite with the small business community, The Product Breakfast Club (TPBC) pulls back the curtain on businesses to consider the inner workings of products and the businesses behind them. Focusing on product design and productive team collaboration, TPBC combines two explosive hosts who intricately assess why certain products are working and what is driving their success. The hosts, Jake and Jonathan, both has a wealth of knowledge within the business world but from two completely different perspectives.

While Jake Knapp has revolutionized business process all across Silicon Valley using his 'Sprint' process - a 5-day intense problem solving mechanism, Jonathan Courtney brings a unique product design viewpoint driven by the success of his multi million dollar product design studio. Through a series of interviews and long-from chats, they provide an entertaining and educative platform that drives new ways of considering how to enhance your products and services.

Hanselminutes is a weekly technology-focused podcast that works to provide new information on what is happening in the tech industry, presented by developer Scott Hansel. Engaging and informative, Scott brings a range of different technology, science, and business-focused individuals to talk about their experiences and to hash out some of the key goings on of the era.

Each podcast aims to educate small tech business owners on important features around running companies, such as privacy, legal issues, security, and training, while also diving into ways that tech companies can improve their products.

Feasting on Design is predominantly a design-based podcast, with a hint of appreciation for food and drink at the same time. The host, Jason Frostholm, has over 2 decades of creative design experience to draw from, which he uses to direct conversations with creatives and designers in various arenas - often focused on restaurateurs and the food industry.

He aims to bring his guests on to the same parallel as his listeners by asking them to address everyday issues that everyone faces when needing to be motivated to reach their goals. His wide range of guests provide a bunch of intriguing inspiration, drawing from many of the struggles in their own entrepreneurial journey, making this a very raw, gritty podcast that's easy for any small business owner to relate to.

Mixergy is a podcast and business education website run by hugely successful entrepreneur, Andrew Warner. Having made $30 million in his younger years through internet entrepreneurship, Andrew is paying his luck forward by educating the generation of small business owners coming up underneath. The podcast is set up as a series of interviews with high profile business people and entrepreneurs, as a way for them to talk through the steps they took toward success in their field.

The podcast also explores hurdles that these guests had to face, that often left them disheartened, if not completely downtrodden. The real value in this podcast lays in its honesty and its integrity, as well as the clearly defined advice on how to work on your own business to improve it - from the horses' mouths.

Another extremely popular business-focused podcast, The Tropical MBA has been running since 2009, hosted by Ian and Dan. The podcast was started as a method for them, themselves, to get help from the people that know business best. Having been on a rollercoaster of an entrepreneurial journey themselves, Dan and Ian wanted to share stories about the trials and tribulations as well as victories and successes, as a way to inspire ambitious, young business people trying to climb the ladder.

They try to invite thought leaders and business moguls who can provide solid advice, inspiration, and education through entertaining stories and honest confessions. These podcasts are released weekly and provide amusing, authentic interactions that leave you feeling less drained.

The brainchild of Jon Nastor, online entrepreneur and creator, Hack the Entrepreneur is based on getting business people to think like an entrepreneur by pushing boundaries, reinventing the wheel, and shifting paradigms. Jon Nastor, who built ShowList.io, hosts a whole range of entrepreneurial guests on his show, at all levels of success - from digital nomads to successful startup founders.

His interrogative style of questioning gets to the bottom of both the practical and emotional aspects of small business journeys, proffering a wealth of suggestions on how to improve key aspects of running a business - such as content marketing, passive income, consulting, and website design. If you're running an online business or want to, this one's for you.

Hosted by Courtland Allen, The Indie Hackers Podcast is based on exploring how developers can take their concept and turn it into a money-making business. Courtland has interviewed hundreds of tech-heads on how they took their idea and turned it into a product that bought and accepted by a legitimate target audience, focusing on marketing and and business operations. The podcast also gives great advice on side hustles to help entrepreneurs make money concurrently to trying make their passion work in the business world.

Predominantly targeted to online businesses, Courtland and his guests indulge the audience with all kinds of way to make money online, as well as divulging industry secrets that help you to test your market, infiltrate new target markets, and convert higher numbers of sales. For those just kicking off a small online business, this podcast is great place to start your education.

How I Built This is hosted by Guy Raz, an engaging journalist and radio host for NPR. Quite a prolific podcast, Guy has a plethora of entrepreneurs and business personalities who head up some of the biggest and most innovative companies on the scene today - such as Squarespace, Canva Five Guys, and AirBnB. Guy uses the space to discuss why these companies succeed and what their leaders think young entrepreneurs need to do to reach their goals.

The podcast also explores the key topics that are driving change, as well as important factors that influence success on micro and macro levels. Inviting idealists, innovators, and entrepreneurs on to his show, Guy is exceptional at asking poignant questions that force his high profile guests to think outside the box and unpack their success in an approachable manner.

Chris Ducker, the host of Youpreneur, is a well-known entrepreneur who writes books, speaks, and blogs on how to turn your concept into a structured and effective business. His specialism lies in outsourcing and providing advice on how to run a business using external contractors to build an empire without burning yourself out.

This weekly podcast comes in the form of intimate conversations with industry experts examining marketing, business-building, sales, monetization, branding, growth, finance, and other vital aspects of making a business work. Jam-packed with actionable advice, Chris Ducker leverages his own know-how to help his guests deliver practical insights to help his listeners build brands that lead their fields.

Rocketship.fm has been featured on a variety of prominent media platforms, including Huffpost, Forbes, and Inc, as it is such a useful tool to upcoming entrepreneurs and small business owners. The format changes depending on which episode, with some exploring certain products, others featuring interviews with important business personalities, and others unpacking concepts that help to shape business.

Working through topics such as product management, sales, funding, and growth hacking, the podcast is aimed at inspiring small business owners to tackle issue head on, while providing some of the tools needed to do that. With a handful of hosts, the podcast has a variable feel depending on who you are listening to, but the change of hosts breaks up the conversation each podcast to give you entertaining an informative content from a variety of perspectives.

If you're a freelancer or solopreneur looking to advance your business into a more sound empire, this podcast focuses on understanding how to turn your one-man show into a successful company. Organized in a more narrative format, this podcast features entrepreneurs who have succeeded from making the leap from being a digital nomad to owning a working business - such as Andrew Warner who came from nothing to hosted a million dollar podcast; Kayleigh Moore who went from PR Manager to owning a huge SaaS consulting firm; and Chris Do who grew up as an immigrant child to now recently winning an Emmy.

With such prolific guests on their books, this blog really helps you to understand how to create an action plan from where you are to where you want to be.

Hosted by John Lee Dumas, Entrepreneurs on Fire is an award-winning podcast that aims to help people transition from jobs they hate to running businesses they believe in. The podcast has two main aims: to inspire, and to provide strategies to help people convert from where they are now to their end goal.

Having interviewed over 2,000 entrepreneurs, John Lee Dumas has developed a style that works, cleverly inviting these business experts to open up about their own journeys while providing useful insights into what makes businesses work and where struggles can be reworked to become opportunities. With guests such as Tim Ferriss, Seth Godin, and Tony Robbins, this podcast manages to get inside the heads of some key players to help new entrepreneurs build upon their success in an objective manner.

While somewhat in its infancy, Hack to Start is a really approachable and relatable business podcast. Born from a belief that growth comes from learning from those around us, the podcast seeks to hold conversations with innovative people on what they think made them and their product successful.

Encouraging future entrepreneurs, this podcast aims to motivate creatives into taking the leap to start their own journeys. With this in mind, many of the conversations focus on beginning stories, to incite urgency in ambitious people wanting to get going - the idea being that guests can provide listeners with 'hacks' to get them started in testing out their ideas.

Chase Jarvis is a visionary photographer, successful entrepreneur, artist, and all-round endearing personality. His podcast Chase Jarvis LIVE digs into the behind the scenes of success in its various forms - from celebrities to authors, from entrepreneurs to creatives. His podcast aims to provide actionable insights that motivate entrepreneurs to think further and act more creatively, in order to re-define their limits and design their own success.

Talking with some very well-known faces, such as Raiin Wilson, Ramit Sethi, and Brene Brown, Chase likes to tackle tough topics such a business psychology and vulnerability, creativity and idea-spreading, anxiety, self-promotion, communication and many more. By ripping open the packaging on these hard-to-hear concepts, Chase is hoping to help provide real-world solutions to understanding why some businesses succeed and some don't. For entrepreneurs in need of a source for personal development, this podcast is the way to go.

Tim Ferriss is a very famous face in the world of business psychology and motivation. Having been a lecturer, keynote speaker, author, and inspirational thinker, Tim Ferriss has managed to devise a number of actionable systems for people to take control of how their lives and businesses are run to prevent them from becoming overwhelmed and crashing and burning. With each episode, Tim Ferriss dissects professional and industry experts from a whole spectrum of society's sectors, in order to analyze the successful elements to their journeys and the ways in which they would have changed their behavior. By attempting to understand how these innovators, creators, and moguls tick, Tim Ferriss aims to pull out their tips, tricks, habits, and tools for his listeners to use to support their own endeavors.

Aimed at freelancers who are trying to take the next step, Being Freelancers is directed toward helping digital nomads to self-direct themselves into having a better work-life balance, while pushing them to improve their business structure for a more solid working base.

Hosted by Steve Folland, each episode is a conversation with an industry expert who has made it from being a casual freelancer to a successful entrepreneur with a full workload. Delving into both professional and personal topics, such as understanding your worth, build a better self-brand, and enhancing your passive income, this podcast helps freelancers to build a brand around themselves and market that brand for personal success.

Angled toward small tech business owners and those looking to launch startups, Startups for the Rest of Us is a weekly podcast that's aimed at developers, entrepreneurs, and designers. With particular focus on launching products, hosts Mike Taber and Rob Walling use their two decades of experience as software entrepreneurs to provide informative content with clear instructions to help launch businesses.

The format of this podcast is more like long-form advice with actionable steps in areas such as scaling, sales, finance, and investing. They explore common mistakes, as well as drawing listeners' attention to their own stories and the lessons they learned along the way.

Create Something Awesome Today (CSAT) is geared up as an audio platform to motivate and educate without discrimination. Aimed at all background, ages, and levels, the podcast seeks to help listeners objectively analyse their own lives to realistically work out ways in which they can reach their entrepreneurial goals, without feeling alone in their struggles. The podcast seeks to assist listeners in understanding what they can bring to the table to offer a valuable service to the world.

With different formats, the podcast sometimes offers intriguing interviews with world-renowned entrepreneurs, to uncover their stories and the advice they have to help aspiring business people get going. In other episodes, host and brand founder, Roberto Blake, provides his own tips on how listeners can further their paths, with applicative advice on subjects like time management, process optimization, and audience growth.

Hosted by Amy Landino, an award-winning YouTuber, author, and businesswoman, this podcast delves into the intricacies of life's routines to uncover the inefficiencies and bottlenecks that are preventing success. This podcast is about specifics, with the intention of unpacking what works and what doesn't when living the entrepreneur life. Amy interrogates her high-profile entrepreneurial guests on their sleep patterns, bad habits, diet, reading routine, time management tricks, and so much more to discover how they manage to hold it together and keep pushing forward to further their passions and business dreams.

With a huge focus on reimagining time, this podcast explores all kinds of topics that relate to why entrepreneurs struggle to get a handle on what can be done each day and why productivity wanes. If you're feeling like you find it hard to fit everything in, this is the podcast for you.

.

OfficeHours.fm is released on a weekly basis with a strong emphasis on small business owners and remote workers. Each episode features host, Carrie Dils, speaking in depth with different high-profile characters who are working in the Wordpress ecosystem. Having gained quite a following in the last couple of years, Carrie Dils uses her own personal experience in the freelance world to help steer conversations toward problem solving for independent workers and small business founders.

The back and forth conversations often dig into the successes and failures of each guest, with a strong stress on providing tangible solutions to assist her audience in becoming more productive and profitable with their time.

Hosted by Linkedin co-founder and Greylock investor, Reid Hoffman, Masters of Scale is about taking small businesses and helping them grow to become industry leaders. Having won the 2018 People's Voice Webby for Best Business Podcast, Reid Hoffman sits with some of the world's most prolific entrepreneurs to discuss how to really tackle growth and expansion.

With guests such as Mark Zuckerberg, Brian Chesky, and Nancy Lublin, this podcast gives a keen insight into how such prominent entrepreneurs came from nothing to owning some of the most successful companies in the world and why their ideas worked out so well. Always starting with a story and ending with a theory, the podcast is very multidisciplinary, with dynamic ways of connecting the dots in between. A real engaging listen, this podcast is worth any entrepreneur's time.

A little more out of the box, this podcast, investigates change in society and therefore business. It is an exploration of culture and how culture affects our viewpoints, behaviors, and commercial mechanisms - and what we can each do to ride that wave to success in an ethical and meaningful manner.

With extremely diverse topics, this podcast jumps into ideas behind altruism, economic structures, game theory, placebos, networks, and so on. While not so directly tied to entrepreneurial advice, the discussions are led by extremely successful dot com entrepreneur, Seth Godin, who is encouraging his listeners to become lateral thinkers in order to shift cultural paradigms for new ways of working.

Hosted by author and keynote speaker, Jay Acunzo, this podcast invites its listeners to throw away conventional thinking in order to create new and dynamic processes for working in business. Exploring creativity in business, Jay Acunzo delves into what is stifling inventiveness and how we use hacks to bypass process. The main focus is on what it takes to create consistently excellent work, without shortcutting our way to the top.

Now on season 5, this very popular podcast shares personal stories and opens honest conversation with other industry thinkers to help shift worldviews for more authentic ways of operating. In doing this, he hopes to inspire entrepreneurs to think outside the box and rework traditional structures into something more fluid, creative, and dynamic.

Foundr, as a company, defines itself as the go-to place for the startup revolution. Aiming to provide a menagerie of tools to help founders achieve their goals, the Foundr podcast is another resource providing excellent advice and tips for entrepreneurs. Hosted by Nathan Chan, the podcast interviews esteemed founders and entrepreneurs - such as Tim Ferriss, Mark Cuban, and Tony Robbins - to find out the exact actions that need to be taken to become a world-renowned success.

Asking direct questions, Nathan Chan is seeking palpable answers to some of the big entrepreneurial questions - for example, how do I build my audience, scale my business, get started, deal with angry customers? This podcast is about actionable strategies from real-life victories.

While a great listen for anyone starting a business, this podcast is aimed at female entrepreneurs. Led by successful self-made entrepreneur, Amanda Boleyn, this podcast provides resources on how to take certain specific strategic steps, as well as looking into successful women around the world and what they're doing in their lives and companies.

Not only is the podcast an inspiration to female entrepreneurs, Amanda Boleyn is also trying to create a feminine network through her podcasts, where female entrepreneurs worldwide help to support each other through the online community.
---
Check out our reports of fast-growing tech companies with validated email addresses

Sales teams and investors rely on our in-depth reports of fast-growing tech companies to onboard new customers into their business. Now it's your turn. Check out our latest reports here →