B2B Funding Rounds in Q1, 2019
---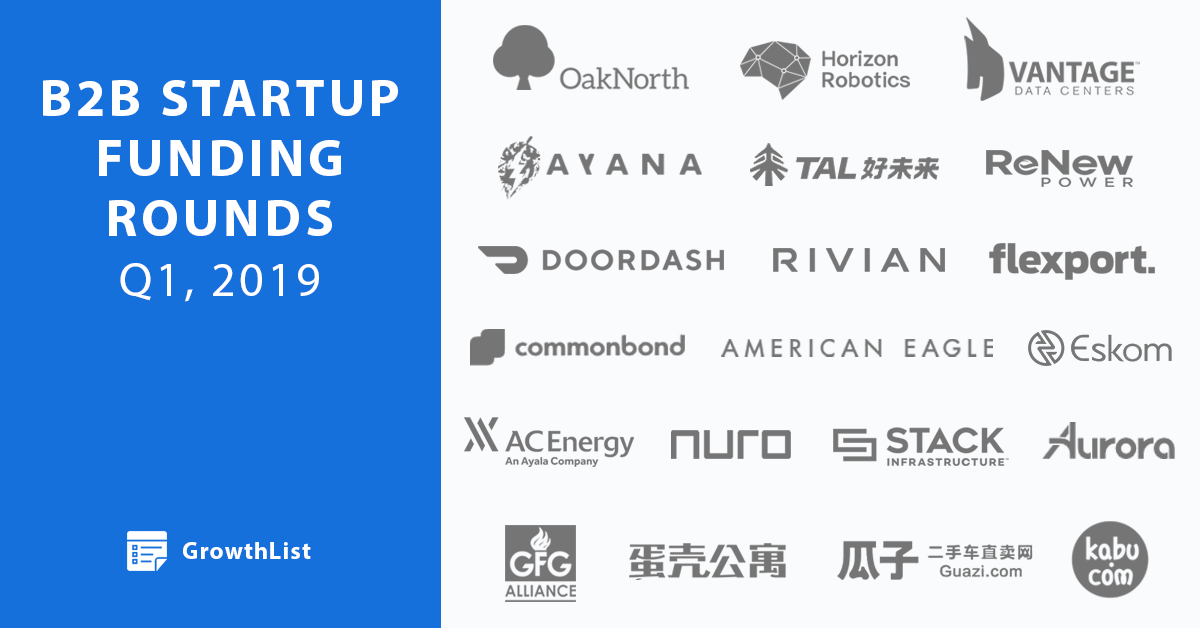 We take a look at the most-promising B2B startups that got funded in Q1 of 2019.
We looked at the biggest B2B software funding rounds in Q1 2019, and here's what we found:
Softbank, Sequoia, and Insight are everywhere - Softbank's Vision Fund, Sequoia Capital, and Insight Ventures are pumping money into B2B tech all across the spectrum. While there are certain predilections toward AI and machine learning, the three top investors are pretty agnostic - shaking up many B2B industry sectors.
Data is king - More than 50% of the highest funding rounds in Q1, 2019 are involved with data in some form or another. Whether it be storing, analyzing or aggregating, data solutions are a major player in the B2B software forum.
China is a prominent key player - 15% of the highest funded rounds this quarter are for Chinese B2B software companies. Equally, Chinese investment companies have been investing high sums into B2B software all over the world in Q1, 2019.
Growth in marketplace-style tech - From food delivery systems to better supplier marketplaces to car dealership platforms, more tech companies appear to be focusing on providing software platforms to connect businesses directly with their customers.
In early March, MercadoLibre, a Latin American company that provides platforms for ecommerce both individuals and businesses saw PayPal and Dragoneer Investment Group drop considerable figures in order to expand the platform's capabilities. Mercadolibre are also offering an integrated online payment systems which helps businesses to conduct transactions both on and off their marketplace platform.

Leading the way with B2B funding is Chehaoduo, having been granted $1.5 billion from Softbank's Vision Fund. A Chinese company, Chehaoduo is an online car trading platform that reinvents the way automobiles are bought and sold in China. Working out of Beijing, the company has two websites that proffer two models for purchase - a peer to peer used car marketplace, and a platform that retails cars through financial leasing and direct sales. Most of the funding for a rigorous marketing campaign which will see them open a series of bricks-and-mortar stores - to complement the 600 stores they already have - as a cross-channel approach to growing the business's brand.

Providing enterprise software and services all over the globe, Infor just clinched $1.5 billion in funding at the beginning of the year from Koch Equity Development and Golden Gate Capital, ahead of Infor's planned IPO. Infor offer businesses software that tackles various areas of management in order to better automate business processes, including HR, CRM software, fiscal management systems, supply chain solutions, and ERPs. The CloudSuite services help to provide integrated management of business operations throughout the company in order to ensure that processes are monitored, managed, and optimized according to the feedback loops highlighted through data collection.

Flexport's most recent funding round saw them receive $1 billion in funds to revolutionise the logistics and freight industry. Flexport are implementing technology to to manage, track, and purchase through their dashboard, enabling better supply chain accountability and a transparency in product handling. Backed by a handful of different companies, the $1 billion was raised from Softbank, Susa Ventures, DST Global, SF Express, Funders Fund, and Cherubic Ventures.

STACK Infrastructure are working to provide full stack, scalable solutions to help deal with enterprise level needs. Their solutions are tailored to each client, enabling companies to have their global reach necessary for international operations, while ensuring stable scaling. STACK Infrastructure have secured $850 million - from IPI Data Center Partners, a partnership comprising of Iron Point Partners and Iconiq Capital - to build more data centers as a means to expand their services and create better global scaling for their clients.

One of the leading platforms for food delivery, Takeaway.com is providing a service for restaurants to better reach their customers, across continental Europe and Vietnam. At the beginning of this year, they entered their most recent round of funding - garnering over $764 million - by placing 8.35 million of new ordinary shares, representing 19% of the company's share capital. The money raised with be used to pay a major part of the acquisition of Delivery Hero Germany..

p>Horizon Robotics are developing accessible integrated and open embedded AI software, with the concept to have their technology in over 1000 types of devices worldwide. Thanks to their latest round of funding, Horizon Robotics has managed to generate a further $600 million from a myriad of companies (including Sequoia Capital, GSR Ventures, Morningside Venture Capital, ZhenFund, Wu Capital, Hill House Capital, Linear Venture, Innovation Works,, Tsing Capital, and Vertex Ventures), which will be directed to developing an even stronger research and development team to accelerate their speed of progression.

A self driving car company, Aurora has managed to secure $530 million in funding, led by Sequoia Capital, with Amazon and T Rowe Price also making significant investments. Having only been around for 3 years, Aurora is making big moves in the technology and automobile industries, by applying cutting edge engineering and applied machine learning to their creations. The company designs and creates both software and hardware for the autonomous driving industry. The money from the funding round will go toward building a solid and reliable engineering team to help push the physical creation of Aurora cars in the coming year to help position them as an industry leader for autonomous vehicles.

The world's biggest education company by market capital, TAL Education has been given $500 million in investment by an anonymous investor in return for Class A common shares. Having started its life as an after-school tutoring service, TAL Education now provides a whole array of services from studying abroad to K12 curriculums and corporate English lessons through their software. They seek to further expand the concept of technologically-driven education by hosting large scale education conferences all over the world and assisting edtech companies in developing schemes.

Based in Switzerland, Veeam Software actually has offices in 30 countries in the world, providing high level backup solutions for enterprises. The solutions are designed to assist businesses with Intelligent Data Management in order to help companies to become more available to customers and to use data to better understand the needs of their clientele, along with virtual, physical, and multi-cloud infrastructures and backup solutions. Their most recent round of funding was led by Insight Venture Partners, with significant input from the Canada Investment Pension Plan Board and will be used for geographical expansion of the business along with mergers and acquisitions.

With $495 million in funding from their latest round - led by Silver Lake Partners - Vantage Data Centers will be using their funding to grow the company through a series of prominent acquisitions - such as the recent acquisition of 4Degrees Colocation. The leader in pure-play wholesale data centers, Vantage Data Centers is looking to expand its remit and build more data centers on the sites for more accessible and efficient worldwide data storage. Their services enable clients to reduce data center capital and operating expenses, while also fully customizing their IT integrations for more stable IT infrastructure.

Founded in 2013, DoorDash provides on-demand food delivery from restaurants through their online platform and app. With $400 million in funds being invested from Temasak Holdings, GIC, Dragoneer Investment Group, YCombinator, DST GLobal, Softbank, and Coatue Management, the US based company will be using the funding to expand the company further, with a direct focus on DoorDash Drive - a system that enables restaurants to advertise their delivery capacity, while the actual door-to-door service is fulfilled by DoorDash.

JUSDA is a B2B supply chain management company that offers a service platform for Foxconn Technology Group, as well as a new endeavour where they are piloting a component to consumer supply chain services. JUSCA is aiming to provide innovative end to end solutions through their software for better automated management of supply chain services, as well as more transparency and accountability in order to ensure integrity of goods and more timely delivery. With 6 investors involved in the recent funding round - TI Capital, Oriza Holdings, IDG Capital, China Railway Supply Chain Group, China Life Insurance, and CICC - funds will be utilized to increase visibility in the B2B sectors worldwide.

A Beijing based startup, MiningLamp is providing business clients with big data solutions to help companies to understand how to apply AI solutions to their companies processes to automate operations and speed up delivery in a more effective manner. Their recent round of funding included 4 major investors - Tencent Holdings, Jintuo Capital, AVIC Trust, and Huaxing New Economic Capital - who invested over $297 million into the startup. The funds will be used to expand the utility of the business, enabling them to become a provider of AI solutions. The company will change its name from MiningLamp to MiningLamp Technologies to encompass this new goal.

Workfront is offering a cloud-based platform for more efficient workflows within enterprises. The work management software helps enterprise marketing teams and creative agencies to deal with the abundance of incoming communications and to integrate more efficiency into the operational process, by reducing unnecessary meeting time and synchronizing tool usage. This most recent funding round comprised of investments from W Capital Partners, Susquehanna Growth Equity and AB Private Credit Investors, totalling $280 million. The funding will be used to further develop and push their new products, Workfront Home, an individual dashboard for better personal management of workflows; and Workfront Fusion, to enable easier integration of Workfront into existing systems.

Rubrik combines enterprise data management with backup solutions in order to simplify the access to enterprise data to better manage any explosions of data that comes from public or private cloud environments. Their $261 million funding round was supported by well-known investors Lightspeed Venture Partners, Greylock Partners, Bain Capital Ventures, Khosla Ventures, and IVP. Funds will be used to accelerate the delivery of new products to customers, as well as being directed into research and development to create innovative solutions for the future.

Founded in Boston in 2011, Toast is an all in one point-of-sale platform that enables businesses in the food and hospitality industry to manage payments. With a keen interest in supporting the food industry, the software is geared to work especially with restaurants, providing a simple interface for more effective tableside management. This recent round of funding provided investment from Tiger Global Management, Lead Edge Capital, T.Rowe Price, TCV, and Bessemer Venture Partners. These funds will be pumped into research and development, as well as to rapidly expand their team.

Marqueta has been around since 2010, and is providing companies with ways to develop, build, and distribute better financial and commerce solutions. Heiled as the world's very first fully documented open AP issuer processor platform, the system smoothes business processes by making it simpler for companies to accept payment, provide incentives, and reward behavior. This Series E round of investment - featuring unrevealed investors - raised $250 million, bringing the company's overall value to $1.8 billion.

Databricks is supplying enterprise customers with a Unified Analytics Platform to help speed up the process of innovative development. Through consolidating engineering, data science, and business, Databricks enable companies to accelerate their analytic workflows to receive actionable insights faster. This round of funding has seen some prominent technology sector investors, such as New Enterprise Associates, Microsoft, Coatue Management, Battery ventures, Green Bay Ventures, and Andreessen Horowitz. The funding will be used to expand their operations both geographically and in terms of products.

Divvy is a financial software company offering businesses control over their own financial solutions by providing real-time visibility of company spending and income. The platform provides a secure solutions for companies to manage subscriptions and payments, as well as enabling them create fiscal reports and actionable budgets. The Utah-based company has gained $250 million in funding from Waterfall Asset Management, which will be used to cover capital expenses as well as to launch a campaign into improving customer experience.

RELEX Solutions is an integrated planning system for retail and supply chain management. The software enables users to forecast their workflows and automate certain aspects of the operations, such as automated replenishment and optimization. Having already been backed by corporate giants such as Spotify, Facebook, and AirBnb, the company has managed to raise a further $200 million in their latest venture round in February from TVC in order to expand their services and increase sales across North America.

Fractal Analytics bring AI and computer-powered analytical support to the human decision-making process, in order for companies to make more competent decisions based on macro patterns in business operations. Working in 15 countries around the world, Fractal Analytics has been recognised by Forbes as 'Hot Artificial Intelligence' and 'Vendor to Watch' by Gartner. Their latest round of funding saw them gain $200 million to help further their development of enterprise AI solutions in the changing technological landscape - particularly in terms of efficiency - proffered by TA Associates, Khazanah Nasional, and Apax Partners.

Operating in South East Asia and Indonesia, KinerjaPay offers digital payment solutions software for bricks-and-mortar stores.Their products not only provide a gateway for payment through social media outlets, they also provide website payment solutions and a platform to create professional-looking invoices. Their recent batch of funding comes from one major investor - Investa Wahana Group - which will be used for future acquisitions, as well as product development for their peer-to-peer lending system.

Early this year, Onit secured $200 million in funding from K1 Investment Management to expand their global reach and extend their business services. The company provides a platform to deploy Onit applications in order to increase company efficiency through the automation of business processes and productivity management solutions.

Securing $179 million in investment from 3i Group, Magnitude Software is on a mission to expand its already prolific customer base. Currently serving 1400 customers worldwide - including half of the Fortune 100 companies - Magnitude Software comprises of a range of brands that deliver enterprise-level information management solutions. Two of their most notable branded softwares are Kalido, a software that generates insights from historical company data; and Noetic, which allows users to search and create concise reports based on disparate data.

Meltwater provides a media intelligence platform that enables business customers to gather insights based on external data around the company. The software searches billions of online conversations to find relevant data in order to help companies get a better understanding of how the business is viewed outside their own ecosystems, strategically managing their relationship to their competition in order to stay ahead. Looking to expand their product range, Meltwater has just been funded $175 million, led by Vista Equity Partners in a recapitalization program.

In late March, Kyriba managed to secure $160 million in funding from Bridgepoint, a London-based private equity firm - giving Bridgepoint a majority stake in the company. A provider of web-based treasury management software, Kyriba helps customers to manage their cash through a cloud-based system. The software allows users to keep track of transactions, search transaction history, view bank balances, handle forecasting, and generate investment reports, among other things. This round of funding will be directed toward expanding its ecosystem, diversifying it products range, and increasing its customer base.

Desktop Metal is dedicated to rethinking about the way designers and manufacturers produce and 3D print metal products and parts. They currently have 3 software programs for businesses: Fabricate, aimed at reducing the complexity of preparing models and to automate the 3d printing process; Live Parts, which optimizes parts design; and Fab Flow, a communications and workflow automation platform. Their recent funding round provided them with $160 million from Koch Industries, which will be used to gain market share by growing the business.

Predominantly providing physical data warehouses, Global Data Solutions also supplies cloud data solutions for enterprise companies. Designing, building and operating large-scale data warehousing solutions for China, the company tends to serve the banking and internet industries - mostly in Shanghai and Beijing. Their recent funding boost of $150 million comes from leading insurance company Ping An, and will be used to expand their data holding capacity and to cover general running costs of the business.

Cloudflare, an enterprise solutions company dedicated to providing enhanced website performance and state-of-the-art security, has recently raised $150 million funding courtesy of Franklin Templeton Investments. The company itself provides a suite of services to protect companies against online threats while simultaneously improving their performance. Cloudflare will use its recent round of funding to continue its international expansion while concurrently broadening its product range.

Innoviz Technologies is working to provide software for the autonomous vehicles industry. Innoviz are building softwares and operating platforms that enable smart 3D sensing, mapping, and sensor fusion for autonomous vehicles. Having recently released their initial product, High Definition Solid State LiDAR, Innoviz have deployed a software for mapping that is cheaper, faster, and more efficient than its predecessors. They raised $132 million in their most recent round of funding from prominent investors, China Merchants Capital, Shenzhen Capital Group, Harel Hertz Investment House, and New Alliance Capital. The funds will be used for further development of their LiDAR technologies.

360 Enterprise Security Group is a Chinese firm, established in 2015, that deals with providing technological security products and software for governments and enterprises. Their products range from human resources, technical support, data management, and security solutions - all directed toward enhancing cybersecurity for large-scale organizations. Their most recent funding round, which saw them raise $134 million was led by SAIF Partners.

Confluent is an enterprise streaming platform based on open-source technology, Apache Kafka. The idea of the streaming platform is to enable companies to stream events and gain insights from those streaming events in real-time. With their latest round of funding backed by Sequoia Capital, Index Capital, and Benchmark, Confluent have managed to raise $125 million toward creating a stronger, more independent brand.

DriveNets is devising revolutionary network infrastructure to provide data solutions for faster management of data without hassle. Their current flagship product is called Network Cloud, and is a routing infrastructure that allows users to run services on a scalable system from centralized clouds. Having raised $110 million in their most recent funding round, driven by Bessemer Venture Partners and Pitango Venture Capital, DriveNets will be using the capital to expand their customer base as they grow their software's capacity.

Airwallex is providing solutions for businesses to move money across borders in a faster and more cost-effective way. Airwallex is enabling enterprise customers to create international bank accounts, as well as being able to access interbank exchange rates and send money across 130 countries for more effective global trade. Their most recent round of funding was led by DST Global, and featured investment from Tencent Holdings, Square Peg Capital, Sequoia Capital China, Horizons Ventures, Hillhouse Capital Group, and Gobi Partners - raising the company a significant $100 million in capital. This money will be used by the global fintech company to expand and grow their business and customer base.

OneLogin is an application for securing identities for companies all around the world. The OneLogin Unified Access Management Platform combines both cloud and on-site environments to collate all identity data for enterprise customers across all accounts, devices, and apps. The software provides high level security to ensure customer privacy, giving centralized access control for better rule-based security policies, identity compliance, and multi-factor authentication. Their recent round of funding raised $100 million from investors such as Scale Venture Partners, Greenspring Associates, Silverlake Waterman, and CRV. They will be using the funding to expand their services into new markets.

Collibra is a company that focuses on data governance and control, to help companies take control of their data and leverage it to maximise their business potential. The software provides an end-to-end solution that encompasses governance, stewardship and management of data, providing both on-site and cloud-based solutions. They are now looking to expand their customer base and product range having netted $100 million in their most recent round of funding. Led by CapitalG, funding was also raised from Index Ventures, ICONIQ Capital, and Battery Ventures.

Through the use of AI, Globality is a smart sourcing platform that is helping businesses to better buy and sell services. Helping companies to provide relevant service providers, the platform matches the needs of companies to the suppliers of services, using a vast number of data points and machine learning technology. Their latest round of funding came from Softbank's Vision Fund, providing Globality with $100 million to spend on exponentially accelerating growth, with the bonus of having Softbank's Jeffrey Housenbold and Ted Fike join the board.

Vena solutions is a Toronto-based financial software aimed at helping small to medium enterprises forecast their fiscal year. The software delivers an intuitive interface that allows users to create sleek budgets, financial plans, and generate revenue forecast. Their recent round of funding saw them raise over $86 million from JMI Equity and Centana Growth Partners, which will be used to capitalize on growth opportunities to target a wider customer audience and expand globally.

DISCO is a legal software that utilizes AI capabilities and cloud computing to help legal companies better predict legal outcomes through data analysis. The software helps companies to sort through legal data to find solutions for issues related to compliance, legal investigations and personal and professional disputes. Their late stage round of funding was invested by 5 companies: Stephens Group, LiveOak Venture Partners, Comerica Incorporated, Georgian Partners, and Bessemer Venture Partners. The funding will be used to streamline AI processes and to expand their offices across geographical territories.

Wynd is a point-of-sales software that enables companies to manage payments within a centralized place. The omnichannel point-of-sale features a cash management systems as well as place to track order status, process online payments, and deploy orders. Their latest round of funding comes from three predominant sources: Sofina, BNF Capital, and Natixis - this funding will be directed toward further development for the SaaS company.

eCheng pose themselves as a B2B SaaS platform for enterprises to better find suitable and qualified candidates for employment. The platform employs AI and machine learning to sift through resumes to find candidates that match the qualifications and attributes needed by companies that deploy the software. Having recently clinched $80 million in funding from Sunshine Insurance Group, Schroder Adveq, Lightspeed Venture Partners, and Cathay Capital Private Equity, the company are now seeking to distribute the software on a much larger scale around the world.

Providing powerful technology solutions for the medical sector, Taimei Medical Technologies is developing cutting edge cloud tech to help accommodate better collaboration between entities. Their suite of technologies includes 6 major forks - data management, regulatory documentation submission, medical imaging, project management, pharmacovigilance, and logistics. Their recent round of funding saw three major entities - SBCVC, Tiger Global Management, and Shenzhen Cowin Venture Capital Investments - raise $80 million to support their mission to enhance operational efficiency and market their platform worldwide.

China-based company, Baiwang Cloud, are producing intelligent cloud solutions to help companies with financial tasks, such as invoicing and tax. The system provides solutions to create and manage electronic invoices through a simple platform, as well as enabling customers to manage the invoice supply chain throughout the entire process from sale to delivery. The platform includes an integrated tax control system, for easier tax recording and submission. This quarter they raised over $76 million to expand the company's reach from Alibaba Group and Tencent Holdings.

Previously known as Certified Security Solutions, Keyfactor is providing digital identity management services that allow companies to better manage the security of online personas while authenticating identity. The software seeks to identify both the identity of individual humans as well as devices within the system to create a true solution for the Internet of Things, founded on the basis of trust and reliability. Their new round of funding saw them garner $77 million toward further expansion of the company and its product range, raised by Insight Venture Partners.

Impact Technologies are automating all kinds of enterprise partnerships in order to manage and protect the relationships within companies. Through data analysis, the software is used for all steps of a partnership program, using cutting edge tech to speed up the growth of enterprises by seeking out and initiating partnerships, inciting onboarding and building the contracts, and engaging and optimizing the relationships. Impact Technologies just sealed a $75 million investment from Providence Strategic Partners, which will be used for further regional expansion.

London-based company, GoCardless are taking the pain out of card payments, especially recurring card payments. The software enables companies to create smart looking invoices and request payments from customers online, with digital payment options included in the invoices, as well easy setup of recurring payments. In a recent successful round of funding, GoCardless raised $75 million from 7 major investors: Salesforce Ventures, Accel, GV, Balderton Capital. Adams Street Partners, Passion Capital, and Notion. The money will be used for their international expansion into the USA.

Medallia has developed an SaaS AI platform to capture customer feedback from a series of devices and channels, analyze this data and turn it into actionable insights to help companies better comprehend the needs of their target audiences and previous customers. Their most recent funding round raised them $70 million from 3 big players - Sequoia Capital, RGM Capital, and Wasatch Advisors. The funds from their late stage funding round will be directed toward assisting with their transition to the public market.

Mirakl is a turnkey solution for powering the platform economy. Mirakl is providing a software and the complementary ecosystem to launch eCommerce marketplaces. They also offer a Catalog Manager software that provides ecommerce sellers with a system to manage product data and organize inventory. Their recent $70 million funding round was backed by 83North, Bain Capital, Felix Capital, and Elaia. Funds will be utilized to advance their software and to move into new markets.

DNAnexus is supplying a global network that uses cloud computing and bioinformatics to enable companies working with genomics to collaborate and access data and information on a global scale without interruptions. DNAnexus just completed their Series F round of funding, which garnered $68 million from 6 investors: Foresite Capital, GV, Innovatus Capital Partners, TPG Biotech, WuXi NextCODE, and Claremont Creek Ventures. The funds will be used to help accelerate the deployment of their DNAnexus Apollo platform geared toward multi-omics and clinical data investigation, analysis, and insights.

Chicago-based firm, Vistex has designed a simple platform that enables enterprise users to have unprecedented visibility on all their go-to-market programs, which gives enhanced perceptions into what needs to be done to drive revenue expansion, reduce costs on a company-wide scale, and further increase profit margins. With $65 million of investment from Accel-KKR under their belt, Vistex are now looking at a potential IPO; especially since Accel-KKR are considering investing a further $40 million in the near future.

Vlocity is helping to move companies into the digital age through cloud and mobile software solutions. The Vlocity platform works with Salesforce to turn the CRM into a powerful tool to enhance customer communication without coding. Their $60 million in funding will be used to build cloud-based apps on top of their platform for increased functionality and a wider product range. The funding comes from top investors pioneering the enterprise technology sectors, such as Salesforce Ventures, Sutter Hill Ventures, New York Life Investment Management, Bessemer Venture Partners, and Accenture.

Redis is an extremely popular open source software that provides an in-memory data structure store which can be deployed in a number of ways, including as a database, a message brokerage, or as a cache. The 7th most popular database system in the world, Redis is an extremely fast solution that helps enterprises to considerably lower their cost of data storage, while providing real-time analytics for users. The $60 million in funding is to be used to advanced the in-house memory software, and has been raised from some notable investors, including Goldman Sachs, Bain Capital Ventures, Viola Ventures, Dell Technologies Capital, and Francisco Partners.

InfluxData creates a cutting edge Open Source platform that enables developers and software companies to analyze metrics and time series data in order to build better IoT applications and dApps. The platform can recognize and utilize data that comes from various channels, including humans, machines, sensors, and other forms of data input. InfluxData recently received $60 million in funding, which will be directed toward building sales and marketing programs, as well as fleshing out their software, with a focus on cloud technologies. Their major investors include Trinity Ventures, Sapphire Ventures, Mayfield Fund, Norwest Venture Partners, Sorenson Capital, Harmony Partners, and Battery Ventures.

Founded in 2016, Haoqipei is a China-based platform that links together auto part suppliers with auto repair shops. The B2B marketplace enables easier trade between the two entities in order to settle complex orders without large disputes. With the easy to use interface, the platform aims to relieve bottlenecks in ordering and solve pain points in the settlement and delivery processes. The $60 million funding comes from private investor Yuri Milner (the founder of DST Global), and investment companies XVC, SIG China, Jeneration Capital, and DCM China.

RigUp is a platform to help the energy industry find contractors to suit the needs of their businesses, while also helping companies to manage contracts, employee data, and risk management in a secure, fast ecosystem. RigUp was recently funded $60 million by Founders Fund, Bedrock Capital, Quantum Energy Partners, and Global Reserve Group in order to expand operations and increase their customer base.

ContentSquare is helping website owners - predominantly ecommerce sites - to optimize their websites in order to boost sales conversions and incite loyalty. Providing key insights, the software is used by companies to understand visitor activity and behavior in order to reorganize purchasing processes to encourage more sale. Having recently raised $60 million from H14, Eurazeo, Canaan Partners, and Highland Europe, ContentSquare will be focusing on research and development to help improve the AI technology embedded in their product.

TaxJar is one of the leading platforms to help ecommerce sellers to manage their taxes. The software is designed to make sales tax easy via simple solutions, automation, and algorithms, helping ecommerce companies to automatically prepare their tax documentation without having to work it all out manually. TaxJar's most recent round of funding saw them net $60 million led by Insight Venture Partners. The funding will be used for TaxJar's aggressive hiring initiative, helping them to expand globally at a very rapid rate.

Medbanks is a Chinese firm that is seeking to help push the development of medicine and healthcare advancements by creating and providing data processing services for the healthcare industry. The company's most prevalent product is an oncology database that can be accessed by healthcare professionals to keep the up to date with advancements within the oncology and cancer treatment fields to enhance and accelerate the development of treatments. The medical network firm has recently been backed by noteworthy tech investors Tencent Holdings, IDG Capital, F-Prime Capital Partners, Eight Roads Ventures, CLP Holdings, and CDH investments.
---
Check out our reports of fast-growing tech companies with validated email addresses

Sales teams and investors rely on our in-depth reports of fast-growing tech companies to onboard new customers into their business. Now it's your turn. Check out our latest reports here →