25 alternative content management systems to WordPress
---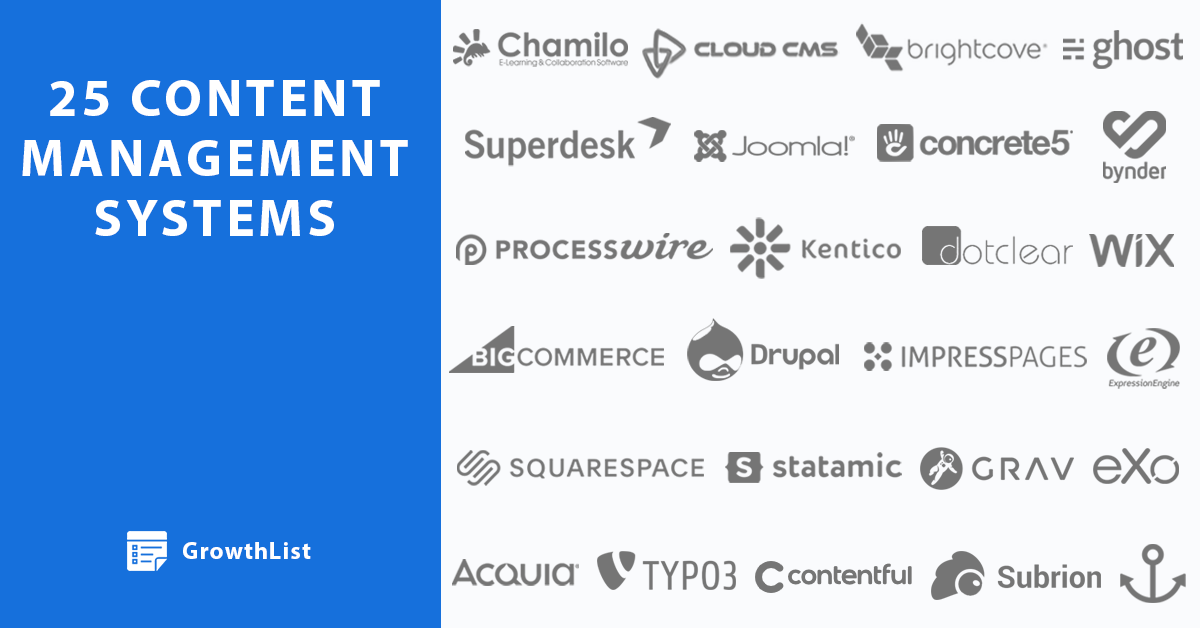 Tired of Wordpress? We take a look at 25 alternative content management systems you can use to publish and manage content online
The most well-known CMS, Wordpress, is extremely popular among individuals, small businesses, and large enterprises. Despite this, Wordpress's history as a blogging experience has meant that its development has been somewhat organic. In this sense, setting up your ideal work space can be a little tricky and time-consuming.
Luckily we're finding more and more comprehensive tools that bring everything you need from Wordpress into a nice, easy solution, without the headache of complex integration.
This overview covers some of the most cutting-edge solutions available today, with each serving different requirements. Whether you're looking to manage advertising videos or newspaper articles, we got your back.
Bynder is an extremely slick enterprise replacement for Wordpress for those looking for a more collaborative-friendly model. Bynder is predominantly a marketing platform and is therefore geared toward promotion rather than simple information distribution. Bynder has exceptional collaboration tools within the system, such as their high-end workflows for production, approval, and distribution - these really cut back time when working.
The style guide is particularly helpful as it helps coordinate consistency in branding - these guides are also shareable. However, you get what you pay for - Bynder is expensive. You can access a 14 day free trial though, which can help you to understand if it is what you need.
An open-source cloud-based solution, eXo Platform is a content management software that aims to speed up workflows by enabling easier collaboration between users. This enterprise substitute for Wordpress has both content and video management software, and is extremely easy to get to grips with.
It has both desktop and mobile interfaces, and comes with full training to get your team up to scratch. Thy have live human support available 24/7 as well, which means you can deal with any system failures in real time.
Free of charge to use, Anchor is a lightweight alternative to Wordpress that suits small to medium companies. Aimed toward making blogging (text-based posts, mainly) both simple and stunning, Anchor CMS enables you to code in changes to every element of your posts for a fully customized final look. However, if you're looking for click-and-go solutions and inspiration, the system comes with a range of sleek themes from which you can choose.
This open-source solution is terribly simple to install, and takes up less room on your device than a Jpeg picture! If you're looking for guides on how to use the software most effectively, their website has a reservoir of training materials to get you and your staff up to scratch.
Cloud CMS is a headless solution, meaning it only has the backend. This means that it doesn't have a display solution, but you can use your own website, native app, and so on for this. Cloud CMS has a full editorial suite and offers enterprise solutions without bogging down the system (as it is much lighter).
The software features flexible content models to provide you with inspiration as well as more fluid ways of working with various content types. The whole system is very easy from end to end, making it simple to create and manage your content, as well as publishing it to your own outlet.
Driven by their desire to create a platform for writers and journalists to thrive, Ghost is providing an excellent alternative to Wordpress that's far more simple and straightforward to use. Originally focusing on blogging, the CMS now offers a myriad of different website templates to help manage and present your content in a an aesthetically appealing manner.
They work on an interesting system of 'Sustainable Open Source' where their enterprise grade customers help fund their non-profit to make freedom of information and accessibility to distribute this easier. The tool itself is very sleek, with a suite of publishing tools that allow you to work with your team closely and manage and approve content through the software.
BigCommerce is a CMS that's designed to provide an ecommerce option for content management. It is a fully-hosted solution with a simple website builder that allows you to drag and drop components without needing to know coding. For those with a more technical background, almost everything inside the platform is fully customizable as well.
Not only does it give you a place to store and manage all your content, it also provides the means for you to accept payments through various platforms on your website. You can use the system to upload unlimited items into your shop with supporting visual and written content.
This is a very niche kind of CMS as it is made to be used by learning platforms. Often known as a Learning Management Systems instead of a straight CMS, Chimilo allows you to create content that can be made into online courses. The software, which is free, enables you to produce a variety of mixed media content, from straight text, to audio and videos, to multiple choice questions.
The features are quite ingenious, enabling multiple teachers/writers to work alongside each other on content, while also allowing you to create examinations for students. While unique, this is a prominent tool for those offering training in all industry sectors, with an excellent user community for support who speak both English and Spanish.
While ImpressPages isn't the most well-known CMS, it is actually an exceptional tool for those with blog style content. The design is especially impressive, with a sleek, modern finish that's unbelievably simple to wrap your head around. There is a drag-and-drop page builder to assist with design, meaning you can focus your energy on the actual content rather than having the headache of preparation.
There are a few handy extensions which you won't find on most CMSs, such as maps and forms. That said, there are only a few extra plugins, but they are customizable.
Suitable for smaller projects, Grav works without a database, so you won't need a database management system. The installation is a little tricky, but the website has a handy guide for you to work from. There are over 200 extensions which enable you to increase the feature list considerably and specifically to you requirements.
For those who are less technical, there is the option of purchasing a pre-configured package, which showcases some samples for you to see what can be done with the software. It's a beautiful looking tool, which makes content easy to manage, but it isn't ideal for enterprise-level needs.
Squarespace is far more well known than most CSMs. Unlike Wordpress, it isn't open-source, but it is relatively affordable. As a website builder and content creation system, it has an intuitive user interface, making it very simple for beginners to understand how to function within it. By integrating the website build, content management, and hosting, it's a one-stop shop for small-to-medium size businesses to get their content out in an effective manner.
Importantly, however, it can run slowly if you don't have a good internet connection. The system isn't geared well for collaboration and accountability either. Despite that, the theme library is extensive, with paid-for and free theme options that are generally quite inviting.
Concrete5 is another open source CMS that is designed for content creation as a priority. In this sense, it allows you to build websites without needing to code. With full training available including webinars and live online classes, Concrete5 is an easily implementable software for various sized companies.
The suite includes everything from E-forms to text and image editing, and even features an SEO management system - something often negated in other CMSs. Support packages range in pricing, while the software itself is free.
ExpressionEngine prides itself on being client-friendly, which can be seen in the elegant interface. While it doesn't have so many features as other systems, it does have customizable templates alongside text and image editing, e-forms, text search, and SEO management.
There is a marketplace where you can add on extensions to increase the functionality, but many are paid-for. One major plus is that the support forums are excellent for this program, and the guidance documentation makes the whole process painless.
Statamic is a beautifully flexible content management system that allows you to work directly with templates, as well as jigging about the template language for a more customized design. The system looks very similar to Wordpress on the backend, making it easy to switch over.
The text editor has a great version control system, as well as SEO tools to help you optimize your content. This CMS is very popular with developers as it is extremely fast.
A PHP open source content management system, ProcessWire gives you full comprehensive control over the customization of your content and how it is presented. Users often compliment the logic and robustness of the coding within the program, that makes it super slick and smart to work with. While being very powerful with a long list of features, it's still a breeze to use for all levels.
The support community goes above and beyond, while the training is exceptional, making the integration process straightforward. Extremely comprehensive, this tool can cope with audio, text, and visual content management, while offering SEO tools, version control, web management, document indexing, and E-forms. There's a menagerie of plug-ins you can choose from to expand this system even further.
Contentful is another lightweight solution, based around producing text-based content. The editing interface is idiot-proof with a beautiful finish. It integrates with a wide range of existing systems easily, and provides a space for you to edit text and index documents.
There are online training classes, along with a fistful of webinars and guidance documentation. If you're looking for a small solution for quick content management, this is a limited CMS with a future-thinking ethos. It is pricy for something so small, but there is also a free version available.
TYPO3 is the second most used open source CMS after Wordpress. It's popularity has resulted in a large, friendly support community who are quick to respond and often very helpful in solving any issues. This is a very high-performance CMS so it does need specialist knowledge for you to understand all the components, and unfortunately, training is quite expensive and lengthy. Despite this, TYPO3 is basically ideal for any project you're undertaking online.
The ability to contribute through multiple editors makes this a collaboration-friendly environment, easing workflows in terms of document editing, approving, and restoring. There is a test space for checking content and design on both mobile and desktop, while the front and back end access can be restricted per user by the admin.There are a phenomenal number of extensions, totting up way over 2000. One of the major bonuses is the ability to over 50 languages for your website.
A bit of an upcomer, Subrion CMS isn't as widely known as TYPO3, but is another open source CMS on the horizon. Developed using PHP, you can either integrate it yourself or use the standalone product for ease. Designed to help beginners with no tech background, the software is very uncomplicated, while the website offers webinars and documentation for training.
This solution can be used in a variety of languages, making it great for international teams. In terms of extending functionality, the admin dashboard can be used as an editor and control panel, and to add plugins. There isn't any 24/7 support, however, which could be an issue for very large teams spread around the world.
Dotclear is a streamlined CMS aimed at creating a simple blogging experience. This is perhaps one of the most easy to use platforms available and offers pretty much everything that Wordpress has in its repertoire. The software allows you to manage, produce, and publish content, with plain text, HTML, and Wiki syntax. You can even create an RSS feed for your website.
There are a whole range of plugins available to customize your experience. This isn't an enterprise software, it's aimed at smaller companies and individual users.
Kentico is a CMS designed for all sizes of company, with solution up to enterprise level. It's a comprehensive marketing solution featuring some high-end digital marketing tools that allow you to optimize customer experience across multiple channels. The pricing is determined by the features you need, with 4 price points. Along with the content management tools is a test ground to demo your final product.
With Kentico, you'll have access to text editing, document indexing, version control, SEO management tools, and template customization, coupled with a long list of training resources for simple implementation.
Brightcove is focused on video content, making it a key tool for advertising, branding, and corporate narratives. The platform enables customers to create beautiful video content and monetize this across a plethora of platforms. While the platform is generally angled toward marketing, there are two subsections that empower users to create both media and brand videos.
The top features include a full content management and creation suite with playback options, library management, and social sharing. The price packages are customizable to your needs so you're only purchasing the parts of the software you need.
Created to assist in content, community, and commerce, this CMS is one of the best cloud-based platforms available. Acquia's user interface is sleek, enabling easy management of content to optimize the customer's end experience. It's a scalable solution that can be applied at all levels of business, while it's flexible enough for beginners to work with and for developers to technically tinker with.
The collaboration elements are well thought-out, making it simple for content managers and staff to work together in delivering various forms of content.
Another niche product, Superdesk (made by Sourcefabric) is designed for newspapers and online magazines. It's a great place to centralize all content tasks to enable smoother production, editing, and curation of content. A flexible open-source CMS, this solution is scalable, with complex enough tools to handle enterprise-scale use.
It runs quickly, which is important for news agencies, and doesn't need a great deal of maintenance. The main features that make this system so good include the document approval processes, version control, and the document management system. It's aesthetic is very stunning, with a nice drag-and-drop feel.
Wix is a very simple switchover from Wordpress, providing you with a beautifully easy way to build content and present it in an aesthetically pleasing manner. Wix comes with paid-for and free plans depending on your needs. The system has text editing options, along with customizable templates, and a very handy drag and drop builder.
The paid plans come with relatively comprehensive support for enterprise needs. Wix is also very quick to learn without needing to download a whole host of plugins to achieve you desired content presentation and management.
Joomla is a household name in content management systems. As an alternative tool, it has certain flexibilities that Wordpress doesn't have. For example, if you need a whole host of different customized post types that aren't necessarily text based, then Joomla is far better at helping you achieve this. When you're posting different types of content, Jooma will also allow you to use various templates and themes at once.
Joomla is an excellent tool for non-native English speakers as the support is multilingual without having to download extra plugins.Bear in mind, however, that while their pose themselves as accessible to all, it's not as friendly to amatuer content managers.
Drupal is used by some of the larger content websites online, such as The Economist. As a tool, it's extremely flexible thanks to its customizability. It has a simple-to-use modular layout and works well for small to mid-sized projects. It is aimed at social publishing and has a plethora of basic functions that make it suitable for beginners.
If you're a little more advanced, there is an comprehensive array of extensions for more complex administration - this can enable you to integrate company portals and multi-domain structures into your system. This is a great alternative to Wordpress as it caters for many user levels, but extensions are tricky to manage and are often complicated to update.
---
Check out our reports of fast-growing tech companies with validated email addresses

Sales teams and investors rely on our in-depth reports of fast-growing tech companies to onboard new customers into their business. Now it's your turn. Check out our latest reports here →