The Top 22 Email Marketing Tools for 2019
---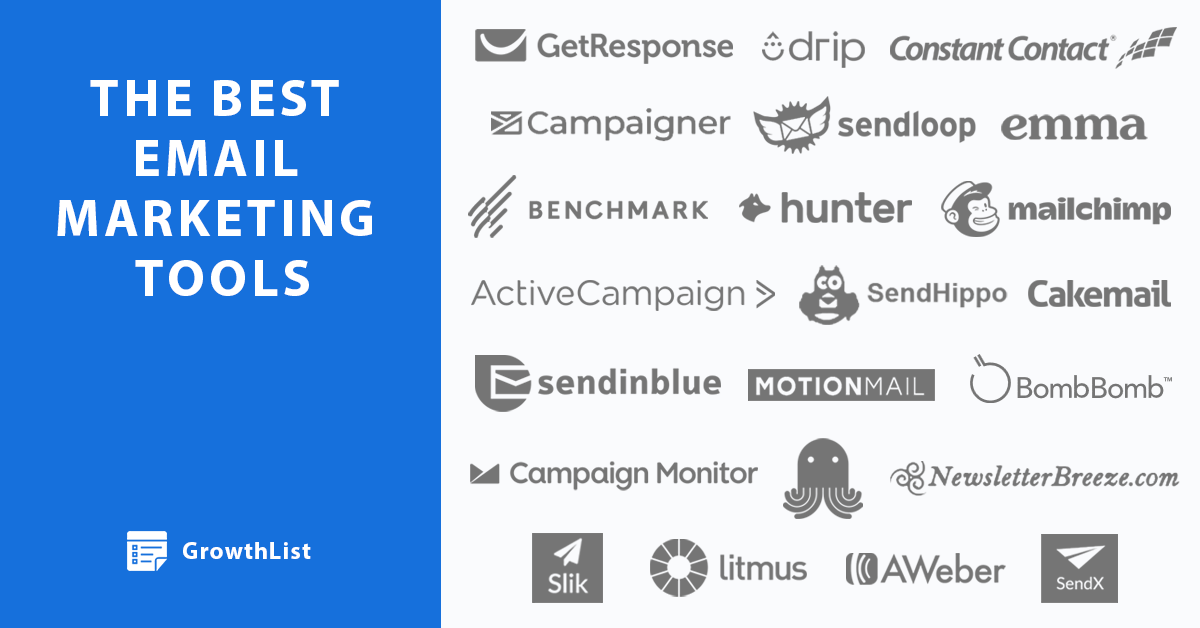 A look at the best email marketing tools to spruce up your customer communications and bring a personal touch to your messages
Choosing between the vast amount of email marketing solutions in 2019 can be a tricky task. With so many 'must-have' tools flashing up with every advert shown on your screen, it can be a little hard to understand what you need to connect more effectively with your audience.
From drag-and-drop newsletter builders to video email tools, luckily there are now a plethora of affordable email marketing tools available on a more democratic basis. No longer are the softwares saved for the money-bags enterprises - now you can build your own arsenal of company emails to spruce up your customer communications and bring a personal touch to your messages.
Take a look at what's on offer in 2019 and how they can help boost your interactive capacities.
Perhaps one of the better known email marketing tools, Mailchimp has been on the block for a while. With both free and paid-for versions available, you can find a plan that suits your current situation, upgrading if you later want more functionality. The free version gives you pretty much all the regular tools and simple-to-use design features, with a 2000 strong email list and 12,000 emails per month.
With the paid accounts, you get more advanced features - you can access tracking, create sign-up forms, preview the email as the recipient, and much more. The Time Warp function is pretty clever for those working across different time zones, whereby all recipients would receive the email at a specified time, no matter the time zone - so if you specify 3pm, your UK customer and US customers would receive it at 3pm in their timezone.
Constant Contact is a veteran product which has always been quite popular in enterprises. It is a relatively easy platform to get to grips with, designed for everyone in your department to be able to work with. The design templates are pretty standard looking and could perhaps deal with some updates, however, the 'no frills' approach means little training is required before you can send off your emails.
Unlike some of the newer tools, though, Constant Contact is very secure - an important feature if you're dealing with sensitive data and personal information. One of the great tools is being able to personalize sign-up forms, which can then also be used on social media. Their real-time reporting is also excellent, allowing you to track sent emails, opens, social shares, and clicks - this is great for analysing campaign success.
AWeber is a great tool providing beautiful aesthetics to your messages. With literally hundreds of email templates, you can customize your designs to fit in well with your brand image and the undertone of the email's content. Moreover, the templates are all fully mobile responsive.
In order to build more comprehensive email lists, the software enables you to create attractive sign-up forms and pop-ups to add to you social media platforms and website to more efficiently collect emails. The analytics sections are comprehensive, providing you with actionable insights on the efficacy of your campaigns.It's quite affordable for small businesses, coming in under $20 a month with a free trial.
GetResponse is an all-in-one solution for customer contact. For small business trying to make their money go further, GetResponse is a combined CRM and email marketing software. This feature-rich tool enables you to create stunning mass email campaigns using a simple drag-and-drop builder for easier customization and extensive library of stock images. Alternatively, if you're not really a designer, they have a catalog of pre-designed email and newsletter templates.
One of the great things about this tool is the capacity to test your campaigns before they're sent through the A/B testing functionality. For those just looking to use an email marketing tool, the extra CRM functions may be a little too much for you. Aimed at serving the purpose of each organization on their books, they offer both basic and enterprise packages - with basic packages starting at $10 a month, with a free 30 day trial.
Campaign Monitor gives you the flexibility to customize all your own emails or choose form their wide range of email templates. Their drag-and-drop builder is extremely easy to use, making building campaigns a breeze, while the interface itself is very intuitive. They also have access to auto responder emails, whereby you can create certain email templates that get automatically forwarded to customers once they trigger them through an action - i.e. 'Thank you for your purchase'.
One problem with the system is the contact importation method; it is clunky and little difficult to do. That said, it's a great tool for those with basic needs and that aren't looking for in depth technical support packages to supplement the tool.
Designed for smaller businesses, Campaigner is a great tool for customizing mass emails into slick designs. The system's email editor enables you to create glamorous, professional-looking emails with dynamic content that allows customers to click on certain links for particular targeted 'call to actions'. The software offers A/B split testing for you to sample the campaigns that will work the best, as well as integrating seamlessly with Google Analytics and Salesforce.
Email campaigns can be segmented to target particular audiences, leading to more effective market positioning and more tangible click-throughs and conversions. For those looking to monetize their email campaigns, this software enables you to partner with companies to provide advertisements on your newsletters, which channel revenue toward you - a great idea for bloggers and news agencies looking to circulate email newsletters.
A new tool on the market, SendX has already taken the email marketing world by storm, having won a number of awards, such as those from Capterra and G2Crowd. Their main focus is on simplicity as a way to make email marketing more accessible to everyone, describing themselves as an email marketing tool for non-marketers. In terms of features, SendX has a revolutionary concept that resends emails to customers who didn't open the first email, dramatically increasing open rates and conversions - with most tools of this kind, this needs to be set up manually using coding wizardry.
The email optimization tool also utilizes 30 parameters to assess the efficiency of your campaign. One of the more unique aspects is that you can pay for your subscription using cryptocurrency. Moreover blockchain companies, who are often banned from email marketing softwares due to spamming, can sign up with SendX. It's a little pricey compare to other tools with the same functionality, but still doesn't exceed $30 a month.
EmailOctopus is an email marketing management tool that works alongside Amazon SES. You can either send out regular newsletters or can compile drip campaigns, a predefined set of emails that release to customers over a period of time. The email builder allows you to customize your messages using HTML while there are also a series of templates for you to choose from, if you're not really a coder. The software will optimize your email to understand how you can increase your open rates and click-through rates, while the analytics tool will help to draw useful insights following the release of your campaign.
You can store all your contacts on the platform, while the automated workflows will use these contacts to deliver directly to your target audience. All of this can be set up in less than 10 minutes. This software does not have an autoresponder though, which they did say they would be adding in 2016, but it never came.
Quite a basic email marketing tool, one may think it is a little behind for 2019. However, their emphasis lies in its ease of operation, ensuring its accessible to all levels of marketer. One benefit you really notice with Benchmark is their high levels for customer service, responding extremely quickly to any tickets raised to their support team.
While not really designed for enterprise usage, this email marketing software is ideal for bloggers and freelancers looking to communicate across a wide audience all at once. The drag-and-drop email builder is clean and provides fresh elements for a well-presented email, however the images are a bit limited in this section. If you work for a non-profit, there are discounts from the standardised pricing, which showcases a positive company ethos.
Another new kid in town, SendHippo also enables you to automate email campaigns and design lead forms to build your contact lists. The interface has a very modern feel and runs very smoothly, enabling quick, sleek designs that are mobile and browser optimized. The system allows for excellent contact management tools for lead generation and contact storage, including lead generation form creation tools.
The content builder enables you to design stunning, dynamic content using their builder or HTML editing, as well as a wealth of pre-designed templates. Users can test and automate campaigns, as well as devise trigger campaigns in response to customer behavior. There is a free plan and two paid-for plans, aimed at a basic level and at enterprise level - both of which are surprisingly affordable.
Emma is a little pricier than other models but is a very powerful email marketing tool, aimed at small to medium businesses. The interface is extremely intuitive, working exactly how the user expects it to. There are over 100 pre-made templates to choose from, and themed sign up forms for consistent branding. In terms of optimization, the segmentation tool enables custom subject lines for different target audiences, which significantly increases open rates.
You can use the A/B testing to work out how best to send your campaigns, while custom software integration enables you to pair Emma with tools like Microsoft Dynamic, YouTube, Shopify, and Eventbrite. The analytics tool is very comprehensive, allowing you to see a click map of how recipients responded with emails, alongside click rates and and overall score of the campaign's success. Emma is expensive though, with their minimum package costing $89 per month.
Hunter is a different kind of email marketing tool that can help you to target more specific people in different industries. For example, say you're looking to contact certain media personnel working in a magazine, Hunter can help to connect you with the email contacts for the people you need to speak with directly.
Hunter operates by using the domain you enter to search for matching email addresses within that company, while also testing those email addresses for validity and and deliverability. It's extremely quick and effective, and even provides you with the source of where they found the email address. One drawback is that you can't sign up with a personal email address; it has to be a company email. However, you can get 50 free email addresses per month.
Litmus is a tool for building and testing your email campaigns. It doesn't send the campaigns for you, which is a big drawback, but does seamlessly integrate with many softwares that do this, such as Mailchimp, IBM Watson, and Salesforce. However, when it comes to building emails, it really crafts the most beautiful and interactive emails, with some of the most rock solid optimization analysis to help you make sure your emails are perfect before they are sent. You can preview your email in a range of email client views so you know how it will look to recipients with different tools.
Equally, the easy-to-use drag-and-drop web builder allows HTML editing for full customization, should you want it. The spam testing capabilities and checklist ensure you have fully optimized your emails, while the analytics software will build an extensive picture as to the success of your campaigns. In short, this is a particularly important tool for people wanting to work with HTML as the previews are outstanding.
This tool is aimed more at those trying to build newsletter for their audience. The curation of content for newsletters can be a very timely job if done manually - this tool does it for you. But automatically gathering relevant content from across the internet, this tool can compile some of the most prominent and interesting industry news in one, well-presented newsletter for your audience. By integrating NewsletterBreeze with your automated email marketing software, you can send your newsletters out without any hassle - you can integrate it with popular softwares such as GetResponse, Mailchimp and Constant Contact.
The platform allows you to add surveys as well as advertising banners for your company, all in less than five minutes. There are three payment plans, starting from $17 and reaching $77. The $17 is a little limited though, as it only adds 3 content sources. The middle plan, at $37 a month, adds up to 100, making it very worth your while if this is a necessary tool to your endeavors.
If you are in need of an email prospecting tool, Slik can help you to gain access to email address from people's Linkedin profiles. When writing email campaigns, very targeted and niche campaigns are often most successful, making Slik an invaluable tool. The automated prospecting will perform lead generation via Linkedin, giving you a summary of contextual information to inform you on your leads, to enable you to target your campaigns more effectively.
The filtering system is very advanced, churning out high quality, relevant leads and an extremely rapid rate. It is expensive, however, starting at $70 a month for 500 leads - some of which can be out of date for people who have had Linkedin accounts for a long time.
Focused directly on ecommerce businesses, Drip actually refers to itself as an ECRM. While they call themselves a CRM, the company mostly deals with the effective automation of emails and customer contacts in order to build reliable and effective customer relations.The tool is powerful and it can help you to build personalized emails that respond directly to certain trigger actions - such as return buyers, customers that leave a full cart without buying anything, and first time purchasing.
The workflow builder is seamlessly smooth, assisting you with custom email campaigns that showcase polished, intuitive designs that allow you to simplify your sales funnel and increase conversions. The customer tracking capabilities are remarkable, giving you key insights into customer demographics and behavior to help better optimize your workflow, website, and email campaigns. More than just an email automation tool, this is a full suite to help you build much more effective all-round campaigns. While basic plans start at $49, this does include a 2500 subscriber list and 24/7 support.
With over 80 templates for you to choose from and an easy email builder, Sendloop is a pretty well-stocked email marketing tool. One of the great things about this tool is the 'fast subscriber import' option, making the integration of contacts far simpler and quicker than many other softwares. With audience segmentation, you can run specific campaigns depending on certain features of your target audience, leading to more successful, highly-targeted campaigns.
The platform has an extensive suite of analytics tools that help you to track your campaign success by specific email and over the course of a series of campaigns - it even gives ecommerce sites a monetary conversion report. The interface is a little old fashioned looking and it is slightly pricey, but beyond this, it is a great tool - which is why it is so popular with so many big companies like 'The Lady' magazine, Riffle, and National Army Museum.
BombBomb is a must-have tool in 2019. It focuses solely on helping you to produce video emails for your prospective clients. Allowing you to personalize this content, BombBomb creates some of the most effective campaigns for this era of technology. One of the main pros of this is that you can record videos directly from your smartphone and upload them on to this platform in order to send them to your audience.
By enabling social sharing and integrating with some of the most popular tools, such as Outlook, Salesforce, and Gmail, BombBomb makes it easy to create video emailing marketing content and disseminate it quickly.There is a 14 day free trial for you to see how it affects your conversion rates, as well as group coaching with their basic packages and private training at higher levels.
In terms of marketing tools, this one is a little bit of an oddball, but a pretty useful software to have under your wing. It allows you to put countdowns into your mass emails. These countdowns can be to sales dates, for offers, or until the date of a personalized event (a customer's booked holiday, for example). Countdowns help to increase conversion and engagement rates from customers, leading to higher sales by creating urgency in the sales funnel.
The platform has beautiful designs for you to work from, that can be customized to your needs and very simply copied and pasted into your email marketing provider. A versatile tool, MotionMail offer a free package and 3 paid-for subscriptions, from basic all the way up to enterprise, making it suitable for business at any level.
Another email marketing and automation software, SendinBlue has a free plan as well as paid-for options for larger companies and establishments. The software offers some stylish design templates for mass emails and newsletters that can be customized using HTML, while there are also a number of contact forms and pop-ups that can help to build your contact lists and subscriptions. The workflows are easy to get to grips with as the interface is relatively intuitive.
There are a whole host of auto-responders which can help to push your campaigns to convert sales better, triggered by certain events - say, for example, someone doesn't open an email, you can program the software to send them a follow-up email with a coupon two days later.There is a high quality SMS campaign function too, to expand your customers reach. It's a little difficulty and time-consuming to set up and account, but once it's up and running, you're golden!
ActiveCampaign is a feature-rich email marketing and automation tool to help manage your campaigns. The email builder is sophisticated yet easy to maneuver, while the software gives you the functionality to split test your email before sending it out. You can create dynamic content in order for better customer interactions, as well as using the targeted email segmentation tools to more appropriately target the necessary audience demographics.
The software also enables you to create drip campaigns with auto-responders for a more interactive campaign. The analytics tools enable you to monitor clicks-through and open rates, along with a handy visual click map to help you understand the patterns that readers are working in. Some of the higher priced plans integrate machine learning, which analyses your data to provide actionable sales insights for far more effective conversion tactics. Lower priced plans start at $9, but for the more involved plans, you're looking at $49 or higher, which is a little expensive for small businesses.
Cakemail looks swish. It's designed to deal with small to medium sized companies, taking away the worry of complicated coding for professional looking email campaigns. With a focus on branding continuity, this tools enables you to create fluid emails with their clean-cut email builder, featuring a wealth of templates and advanced content blocks. The contact organization tools make it so simple to keep all your contacts in a tidy fashion, enabling you to better segment your target audience for your various campaigns.
This tool is relatively new so functionality is a little limited, however the pricing is excellent - starting at only $8 for 500 contacts. Interestingly, they're working quickly to improve the product, by working on API integrations for developers, as well as 'smart templates' which suggest content and email types that should be sent to your customers. This would be an incredible tool to better help you target your audience without much marketing background.
---
Check out our reports of fast-growing tech companies with validated email addresses

Sales teams and investors rely on our in-depth reports of fast-growing tech companies to onboard new customers into their business. Now it's your turn. Check out our latest reports here →