25 books every entrepreneur needs to read this summer
---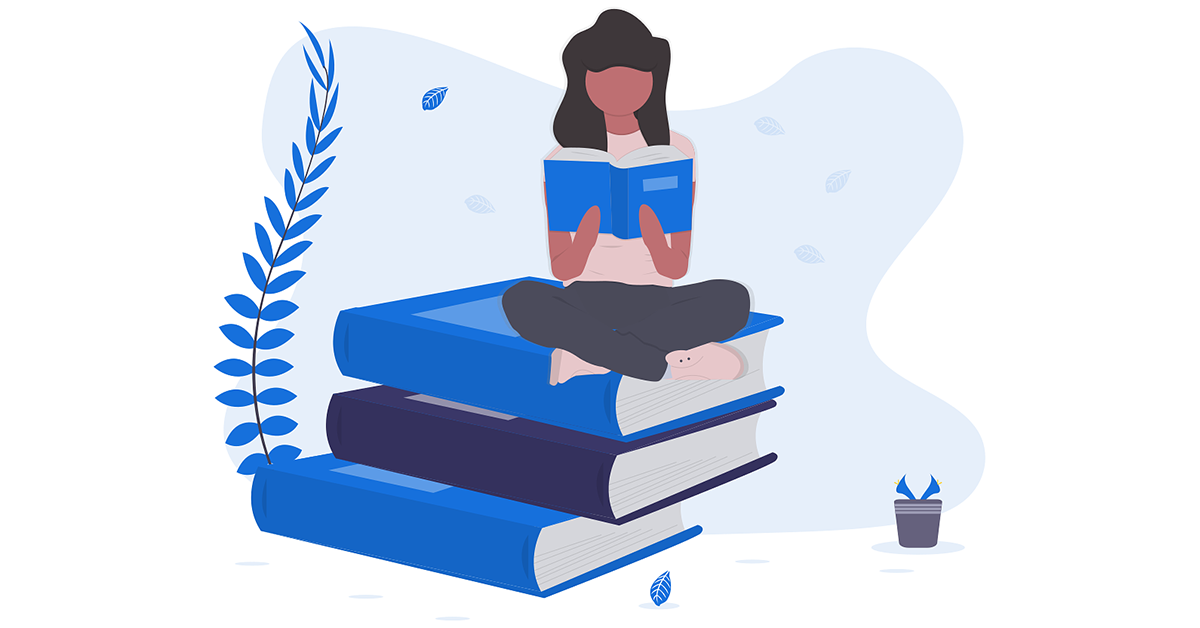 A carefully curated list of 25 great books every entrepreneur needs to read this summer
As the wintry days fall away and the promise of summer is pregnant in our midst, we all start to picture those sunny days in the park with a picnic and a good book. While cheery vacations and summer weekend getaways bring the promise of relaxation, we all know that our entrepreneurs' brains never sleep.
Luckily, we know how to satiate a business mind's thirst for knowledge. As we move through 2019, we're being presented with a bounty of resources that push boundaries and shape our entrepreneurial thinking to help breed better and more focused outcomes for our efforts. With page turners stacking the shelves filled with wisdoms from psychologists, technologists, academics, moguls, and whizz kids alike, we're abundant with opportunities to further the limits on our own acuities.
So whether you're a self-driven startup or a veteran vender, it's a good idea to get your nose in the books this summer to see how you can pump yourself up just one more notch. Self-improvement and entrepreneurial success go hand in hand, so why not take advantage of every hand that's being offered to you! Below is a list of some of the most poignant reads for the summer of 2019, ranging from scientific insights around timing to philosophical pointers on work, life, balance.
If you want to get from here to there this summer, growing yourself from fledgling to eagle, try a little self-education with some of these brilliant business books.
The Execution Factor is a look into success factors of people who have followed their hearts and passions and achieved their business goals. For aspiring entrepreneurs, Perell leverages her own success and transformation from broke to multi-millionaire, to explore 5 of the most poignant reasons that business moguls make it to the top: passion, vision, action, resilience, and relationships.
Perell delves into the ways in which one can move from the thinking to the doing, executing these five skills as a means to devise action plans to reach the end goals. The book is an insight into Perell's personal journey, alongside her actionable advice on how to get there for yourself.
Tim Ferriss is a well-known academic, thinker, and entrepreneurial mind who delivers lectures, keynote speeches, and bestselling books to the world. As an expert in efficiency, Ferriss invites his readers to redefine our expectations for life and reimagine the concepts of life stages - especially retirement.
The 4-Hour Workweek is a blueprint on how to break down the habits and routines in your life to reconfigure them in more efficient and time effective ways as to not waste opportunities to life in a more fulfilling manner - reaching your goals without breaking your back, family, and heart to do it.
The Power of Habit is an insightful look into the addictions and routines we've created for ourselves and how they drive our lives. The book explores the impact that habits have on our overall happiness and productivity and the effect they command on our relationships and work. A scientifically driven account by the award winning reporter, Charles Duhigg, dives into cutting edge science on habit-forming and breaking in order to give an outline of how these behaviors can be altered and the fulfilment that comes from those changes.
The book is jam-packed with real-life stories of civil rights activists, sportsmen, and corporate initiatives that have been turned on their heads by habit. If you're stuck in a rut and want to break your own routines to shake out innovation to transform your business, this is a great read.
Entrepreneurs know the importance of networking, however often get caught in the shallow end of business contacts, rarely finding themselves in the company of those that can truly help them. Ferrazzi, a networking genius, provides a strategic guide to moving through the 'inner circles' with purpose and poise. Drawing from lessons taught by historical influencers, from Winston Churchill to the Dalai Lama, Ferrazzi projects a very practical schema that worked for him in his own journey.
Inviting you to create winning relationships, Ferrazzi's message declares mutually beneficial networking as the linchpin to successful business, which can be seen through his own achievements making Crain's 40 Under 40, and being as chosen as a Global Leader for Tomorrow by the Davos World Economic Forum.
Having opted out of traditional employment to follow his own route, Guillebeau has visited over 175 nations already, while still in his 30. He utilizes his talents to turn ideas into to income in order to finally achieve his goal of visiting every country on the Earth. This book is a collection of case studies that Guillebeau has used to mentor himself. By pinpointing 1500 business who make $50,000 or more from very little financial input, he started to pattern the commonalities that made them succeed.
Focusing on the 50 most interesting projects in this collection, he noticed how these entrepreneurs restructured their time and lives to be able to command better results from their efforts. This is the handbook that showcases exactly what those methods were and how to piece them together to define your own plan to reworking your life. One of the greatest positives of this book is the specifics - Guillebeau breaks down exactly what he is doing, from dollar to dollar, to help you understand how he manages the resources in his own life, rather than just spouting unsolicited advice!
Canadian journalist, Malcolm Gladwell, has written a series of prominent business books to help entrepreneurs recognise patterns of success and work from them. Having achieved great fame with The Tipping Point and Blink, Gladwell has come back strong with his new book Outliers. Outliers is a poignant examination of the extraordinary capacity of people who outlie the regularity of normative behavior.
Identifying those who reached pinnacle success outside of any regular conceptual experience, Gladwell picks apart why these people act differently and why their experience of the world leads them to such heights. Engaging, witty, and informative, this book uses common misconceptions to break down the belief system that clouds our brains into believing only the clever can achieve - instead, Gladwell posits that perhaps it is a combination of opportunity or luck, bound together with tenacity and hard work.
Perhaps one of the most innovative entrepreneurs of our time, Godin was a prominent figure in the dot com boom and has since become a well-know business author, speaker, and thought leader. Godin's book is a reminder that in order to stand out, one must be extraordinary - in order for ideas to take off, the must push the boundaries of human expectations to provide something cataclysmic.
As a purple cow would force us to take notice, so should business concepts. Godin makes an important point that the saturation of marketing has meant that not only do we need remarkable marketing tactics, we also need similarly remarkable products - one without the other is a recipe for failure. If you're looking to improve your product or service, this is a good book to outline ways in which you can think bigger.
Developing over time is something that many startups neglect - being successful right now is only part of the endeavor, can you keep it going? Collins, entrepreneur and business management lecturer, explores this concept through research. Having hired a 21-person research team to analyse Fortune 500 companies throughout time, specifically focusing on companies who had had 10-year long periods of stagnation followed by a decade and a half of real success.
By using these companies as the basis of his study, Collins looks at what makes business work over time in comparison to its competition, and how to surpass the competition by thinking across decades rather than in the here and now. If you find yourself stuck in the mud or considering the temporal dimensions of your ideas, this may be a good place to start reading this summer.
Rand Fishkin is a business mogul and leader in SEO techniques. His book unfolds the lifespan of a startup in the tech industry and how being a CEO of one actually fares for you, personally. By letting you see behind the curtain, Fishkin is breaking down the barriers between successful people and those who dream of the same - helping you to understand what is accessible and touchable and what you need to do to get there.
This is a expose of the real stuff that goes on, rather than just the glamourous stories of Steve Jobs and Mark Zuckerberg. Opening up with true honesty, Fishkin gives his readers a rundown of the ups and downs that are faced in reality by business makers, and some practical ways to get through them with your head held high. If you're feeling a little underwhelmed or overworked and unachieving, this may be the motivational text for you.
We all make excuses as to why we haven't turned out as well as we hoped or as to why we can't get what we need to done. This book invites you to cut through your own grey areas to stop making those excuses and to get your dreams on the road. Founder and CEO of Fit Body Boot Camp, Keuilian provides a straight-talking guide to overcoming adversity - especially the boundaries we set in our own minds.
By tearing down your acceptance with the mediocre, this book pushes you to reach the goals and set harder ones next time until you're bigger and better than you've ever been. By addressing you self-doubt and inherent laziness, you can step out of your comfort zone and turn hobbies into prosperous business ventures.
Focusing on women entrepreneurs, this book encourages women to support each other in business in order to build networks that lead to mutually beneficial relationships. Having taught inside companies like Kate Spade and Macy's, Cara Alwill Leyba invites women to break down the facades and painted faces held up in business to show each other what is really needed from one another.
By providing an open door policy to our own messiness, we will find the female world of entrepreneurs punctuated with the same pressures and problems as are found at our own doorsteps. This book is a roadmap for women to succeed in business by working with other women to get there. From collaborating on side hustles to providing resources and teaching expertise, Girl Code is banning jealousy, encouraging connection, and stimulating bigger questions around confidence and operational methods in the business world.
Daniel Pink, previously Al Gore's main speech writer, has composed and excellent insight into timing. Pulling across disciplines such as biology, economies, and psychology, Pink is exploring how timing affects the decisions we make in life and the outcomes of those decisions.
By projecting the concept of timing as a fine-tuned science, Pink delves into cutting edge research to manifest practical ways in which you can improve your timing and use it to your advantage both in life and in business. With personal touches and relatable scenarios, Pink makes us question our own poor timing, as well as our lucky breaks, to help us understand how we can turn one thing into another by leveraging timing to do this.
The Entrepreneur Mind is a compilation of 100 beliefs, characteristics and habit of highly-successful business people. Johnson, president of multi-million dollar company Johnson Media, motivates his readers to reconsider their own beliefs and habits in order to think in different patterns to achieve success where previously there had been blockers. Drawing from his own personal experience in business, Johnson encourages readers to think bigger than expected, as well as to know when to fold.
With practical tips such choosing a business partner, educating yourself, and working business finance, among others, this is a hands-on tome to really help you distill the wisdom of the elite in business. Exploring strategy, finance, people, marketing, sales, leadership, education and much more, Johnson is providing readers with new ways of thinking and actionable philosophies to invigorate your regular business routine into something far more effective.
US personal finance advisor and entrepreneur, Ramit Sethi, is helping his readers to get rich. The book is a 6-week program that provides practical lessons on how to move from your current state of poor spending and bad money habits, to having control over your personal finances. From explaining the right ways to bank to giving insights into long-term investment, Sethi pushes his readers to take literal steps to reorganize their money into more sound decisions.
For those sitting in debt, thinking of applying for a loan, or wondering how to better manage their finances, this is an insight into psychological blockers, practical investment opportunities, and real-life stories that can help to paint a picture of the direction that would be best for you to take. Despite it's casual tone, this book proffers some serious advice on how to get your finances in order; invaluable counsel for an entrepreneur.
Stacey Abrams is a US politician and lawyer who hones in on the benefits of being an outsider and how this can help you lead in a more humble and efficient way. For those looking to make change but struggling with the hurdles of oppression, this book invites courage and dynamic thinking to influence from outside the box.
Employing her own personal experiences, Abrams explores wealth, ambition, fear, and failure in her pursuit of leadership, providing key insights into ways you can leverage your disadvantage to hone your skills and improve. This is a very honest account of Abrams journey and introspection, exposing her route to personal strength through adversity - with advice on how you can do the same.
Another book aimed at female entrepreneurs, this book is blunt, raw, and daring. Breaking through the predefined structures of what women need to be in business, Hollins is forcing women to reconsider what would make them more efficient and effective in the world, without being tied down by traditional roles and standards.
Deeply understanding the psychological barriers that women feel - from not feeling enough to being scared to talk loudly - Hollis is giving actionable ideas of how to overcome these issues, while being the voice of strength to invoke courage in her readers. Breaking down why women feel this way and reconstructing ways in which they can change it, Hollis is provides a behavioral manual to encourage growth and confidence without compromising your own personal traits and preferences.
A #1 New York Times bestseller, this thought-provoking book transforms the way we present ourselves and consider courage when dealing with business and life. Brené Brown, prominent academic and thought leader, spent years researching vulnerability in order to work out its connection with success.
Pinpointing vulnerability as the epicenter of complicated emotions like grief and disappointment, Brown posits that it is also the place that we find empathy, love, innovation, joy, and ultimately courage. By putting ourselves out there, Brown invites us to harness courage in a new way to tear down our own walls and shake us out of our comfort zones - whether that be with a new partner or through a business pitch.
Author and entrepreneur, Eric Ries, bids his readers to reconsider the way we start business. Rather than spending weeks, month, years, hidden in the dark hole of our study working on an idea in private, The Lean Startup is suggesting that putting your idea out there as a barebones concept can encourage a teamwork approach where many minds come together to work on it.
As we often get stuck on solutions when we think only by ourselves, by using a more iterative approach, the bigger failures are preventable by smaller steps devised by a broader boardroom form the very outset. This is a new way to test your ideas without having elaborate faceless business plans. If you have a concept in the pipeline, this is a great book to gear you up to presenting it without it overwhelming you.
Founder of prestigious investment firm Bridgewater Associates, Ray Dalio, believes that most of life can be broken down into sets of societal rules that can be understood and followed to achieve success. This book is a collection of hundreds of lessons from the business mogul who offers up his own principles that he believes the world and society follow. This insight gives hands-on tools that Dalio has found to be successful - mostly somewhat unconventional and unique.
According to the book, these principles can be used to achieve business and life goals, helping both people and organizations to reach the targets they set out for themselves. Written in an educative manner, this book has an inspiring undertone that keeps you engaged and allows you to appreciate personal resilience and triumph over time.
This book is a little more lateral, covering multiple areas of life and society, considering mostly how we look to solve problems. A volume of insights, ideas, history, science, and analysis, Bahcall is using all the weapons in his armory to help his readers understand how to approach issues and find the tools to solve them. As a physicist and entrepreneur, Bahcall is bringing a new way of thinking to the boardroom, attacking group behavior and using scientific means of analysis to radically breakthrough our preconceived notions of business psychology and philosophy.
Hinging on the question of what actually leads to radical breakthroughs, this book uses the science of phase transitions to explain what causes people and businesses to dramatically change their perspectives and how structure plays and overwhelming part in this. With practicable and hypothetical examples from all walks of life, from empires to forest fires, Bahcall really brings an approachable and enthralling read to make you reconsider how we structure the tools to solve the big problems in life on in the boardroom.
A standalone book in the Incerto series, The Black Swan is a masterpiece used to teach readers to expect the unexpected and how to work practically with this. Honing in on human error, luck and chance, uncertainty and decision-making, Taleb is pushing his readers to become 'antifragile' resilient systems by considering that which lays outside their current means of thinking. The Black Swan theory suggests that some events take on three characteristics that make them a black swan: they're unpredictable, they have a huge impact, and they appear less random in retrospect.
This book suggests that due to societal training, humans see specifics rather than generalisations, preventing us from seeing patterns that occur over time and across dimensions. By thinking differently, with black swans at the core of this thought, we can think outside the box to see what is impossible and manipulate it. This is a book to explain everything we know about what we don't know, and perhaps how to navigate this to a more robust sense of resilience. For entrepreneurs, this is the ultimate book on risk.
This book is about taking the things you're passionate about, your hobbies and obsessions, and turning them into income streams. Family business guru, Gary Vaynerchuk took his own company from being a small local winery to a national favorite. This is a look at how he managed that success and the secrets to reaching your goals through channeling passion.
This book gives insights into online entrepreneurship, as well as a step by step manual for becoming a sellout. An oldy but a goody, this book pushes you to see how businesses succeed in their barebones principles rather than in all the glitz and glamor of software tools and new world trickery. Instead, Vaynerchuk educates you on where to direct your efforts and use the things that inspire you to keep powering on.
We often believe that some people are born creatives and some people are not. Big data businessman, Allen Gannett is delving into this idea to debunk the myth that creativity belongs to natural-born geniuses. Instead this book tears down the idea that creativity belongs with the precious few elite, and puts out the idea that there is an optimal point between innovation and the familiar that actually makes projects take off. When considering this, we can see that by understanding the balance and mechanics of both these things, we are far more likely to experience creative moments that helps us drive dynamic business ideas into the world.
This book talks with some of the great creators of our time including the founder of Reddit, the COO of Netflix, and a few Michelin star chefs, to decipher where that point of creativity meeting familiar works best and whether its fluid. According to Gannett, we'll have the most success by looking for the common patterns of achievement, as change comes from one foot in front of the other mostly, rather than complete upheaval.
This book explores organizational culture and what drives people in business, from the CEO to the employees. Former Chief Talent Officer at Netflix, this book gives little gifts of insight into why Netflix worked and the particular tools she used to move the idea along with the team of staff she was cultivating.
Practicing radical honesty in the workplace, McCord suggests ways to structure and unstructure successful teams, methods of empowerment and reward, ideas for perks and bonuses - often rejecting old school ways of performance reviews and HR stagnation. Coming from the throws of one of the most prosperous companies of our time, McCord teaches you how to motivate your own employees to take responsibility and deliver results, all while creating an inspirational and happy work environment.
---
Check out our reports of fast-growing tech companies with validated email addresses

Sales teams and investors rely on our in-depth reports of fast-growing tech companies to onboard new customers into their business. Now it's your turn. Check out our latest reports here →