Best Accounting Software for Small Business Owners
---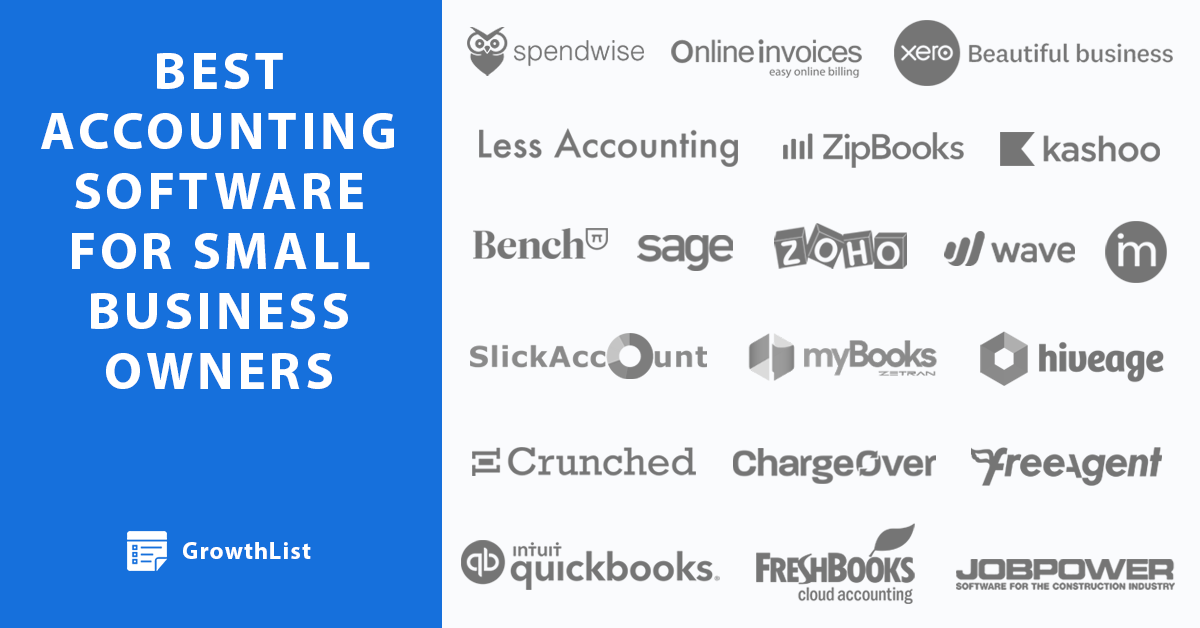 A carefully curated list of the best accounting software for small business owners
One of the biggest worries of small business owners is the accounting. Not all of us are numbers people and trying to make sure your balance sheet is absolutely perfect can be a real headache - especially when you throw taxation in on top.
However, the reason it is such a headache is because it's so important. Accounting can make or break your company, so making sure everything is ticking over in good working order is an extremely sensible idea. But without the know-how, you often end up spending a small fortune hiring an accountant to do it for you. For many small businesses, this is an expense that can really eat into your profits.
Luckily, as the tech world continues to bring us Easter eggs to unwrap, we find ourselves in the era of new accounting software that makes your life a whole lot easier. With minimal costs and easy interfaces, you'll find yourself getting to grips with these accounting tools in no time whatsoever. If you've had a little browse but can't decide which is for you, here is a rundown of some of the best accounting softwares for small businesses in 2019.
Another extraordinarily well known accounting software for small businesses, Xero has a particular focus on providing excellent user experience. Thanks to this method, the interface is very easy to use and is geared to breaking down complex accounting tasks into simpler steps to understand. It takes a minimal time to set up, and is probably the best tool for Macs. The solution provides tools for inventory management as well as accounting, while also working with payroll. The system can adjust taxes for over 20 states, keep accounts extremely accurate.
There are a wealth of templates that users can take advantage of to make invoicing and form creation far simpler, while giving a personal touch. The pricing starts at $25 a month for their most basic plan, making it affordable. For the more expensive price ranges however, you can handle more complex accounting tasks, including multi currency transactions.
QuickBooks is one of the most well known accounting solutions favored by small businesses. It's extremely simple to use, making accounting far easier and hassle-free With pricing packages ranging from $15 a month to $30 a month, it's is a very affordable software with a sliding scale of features depending on the package and number of users. The accounts management system is very simple to handle, enabling users to create, edit, share, and copy information to whoever needs it.
The dashboard enables users to create their own customized charts and feeds for extraordinarily clear data visualization. The system can be used online making it accessible from anywhere in the world, while every package comes with support to ensure that any issues are handles. For those looking to integrate with payroll and payment systems, QuickBooks works seamlessly with Quickbooks Online Payroll and Intuit GoPayment.
FreshBooks is a top quality accounting software for small companies. It's perhaps one of the easiest tools to manage and can deal with recurring invoice and subscription based services. While easy to use, it's very powerful and feature-rich with a slick interface and mobile optimization for painless remote access on the go. Users can bill time without hassle and use a whole host of payment gateways to receive payments through FreshBooks. The streamlined process from invoice to payment saves time, while the billing history tolls enable you to generate reports to understand your financial situation.
Pricing starts at a tiny $15 a month and the data security is super tight to ensure that private and personal data is kept from prying eyes. The dashboard is customizable to make it even more straightforward to use and the support that comes with each package is second to none. This is a real favorite with small businesses and is great value for money considering how much time it saves.
Sage 50Cloud is a hybrid desktop and cloud solution with a predominant focus on ensuring that users are staying compliant with all tax regulations and reporting requirements. A very feature-rich system, this software incorporates HR and payroll capabilities alongside the accounting software. In terms of accounting, users can create invoices, budgets, and tax returns, while also monitoring cash flow and managing inventory. The point of sale system makes it easier for clients to pay on time, while the data management tools help to ensure that contacts and accounts are kept organized and secure. The mobile capabilities are great for on-the-go billing and reporting, while also enabling users to share access with accountants and other team members.
The hybrid nature of the system allows users to store data in the cloud, but benefit from the robustness of a desktop application. The system links to bank feeds for better management of spending and income, while the platform will automatically record sales transactions and receipts in real time. While there is a 60 day free trial, this software is pricey, with plans starting at around $45 a month. That said, users get a lot for their money, both in terms of features, and 24/7 support and Sage University training.
FreeAgent has a suite of tools aimed at simplifying the accounting process for freelancers and small businesses. With over 60,000 customers worldwide, FreeAgent is a popular tool that manages income, profitability, expenses, and account receivable all in one place. The system can file VAT, RTI and Self Assessment returns, making the taxation process trouble-free, while the third party integration with payment systems and add-ons enable you to customize the software to your needs. In terms of security, FreeAgent employs some of the most rigorous safety and data protection initiatives, while backing up all records to prevent loss.
Users can import bank feeds to better track income and outgoings, while invoicing takes seconds. With accounts payable management systems, expense and time tracking, and facilitated payments, this tool is feature-rich and extremely powerful. For companies working across different countries, there are multi-language support options, as well as multi-currency invoicing features. In general, this product saves a great deal of time and hassle, especially when it comes to taxation and getting all your records into the right authorities. On top of this, if users are experiencing any issues, the support that comes with each package is top notch.
Bench is an excellent software that makes accounting and bookkeeping easier, with a dedicated bookkeeper assigned to every client account. The software is created for easier collaboration and recording, with intuitive web-based and mobile apps for remote access and sharing records with the team. Users can utilize the software to upload and share spreadsheets and record of transactions, as well as receipts, invoices, and other expense claims. The dedicated bookkeeper will work to file all these, reducing time spent on accounting for the users.
The bookkeepers work to categorize the documentation for tax and accounting purposes, and will attach receipts to transactions where relevant. Connected with all major banks and well-known payment gateways, Bench enables automatic tracking of your financial behavior. The system is highly encrypted to protect all secure data. While a little expensive, with packages starting at $135 a month, the software and accompanying bookkeeping team really saves time - and present all your reports in an easy to understand, professional format.
A cloud-based solution, ChargeOver is a more basic tool that looks to help you keep track of invoices, bill customers, and collect payments through the systems. For small businesses With little accounting requirements and few staff, this system is very handy for companies trying to manage both subscription billing and one-off payments. The system has tools for tracking payments and notifying users of any outstanding bills - with suggestions on actions that can help to rectify this.
The system is also designed to help users accept payments, which can be made through PayPal, ACH, or credit cards with this applications. The app can be accessed remotely and saves a great deal of time with having to write recurring invoices. If you run a subscription based service, this is likely one of the best accounting tools for your small business.
Based in Vancouver, Kashoo is another cloud-based accounting software aimed at small businesses and sole traders. Learning to master the dashboard is child's play, as this product is designed for simplicity enabling invoicing and reporting without any trouble. Users can track bills and expenses, and see historical reports on these to better predict future behavior and manage budgets. While this software doesn't come with payroll capabilities, Kashoo proffers integration with SurePayroll for an extra cost each month - but it is quite pricey.
With a mobile app for iOS, it's straightforward to access your accounts remotely and upload receipts with a simple picture. Unfortunately it doesn't synchronize with Android devices as of yet. Users can benefit from double-entry bookkeeping to make sure all accounts tally up accurately. If you need to share your books with your bookkeeper, accountant, business partners or investors, this is one of the best tools to do it on account of its seamless collaboration options.
Hiveage currently covers over 50,000 customers over 140 countries. One of the most striking bonuses is that users can send unlimited numbers of invoices to as many client as needed, no matter the level of price plan. Starting with two users on the plan, prices begin at $15, providing super fast, responsive tools. The system can be used on multiple devices, enabling access easy from your desktop or mobile device, through a very organized and fully customizable dashboard. The invoice builder is amazingly flexible, allowing users to bill at hourly rates or for one-off jobs, as well as featuring distant invoicing, recurring invoicing and automatic billing - topped off with personalized branding tools for a more professional finish. With both time and expenses tracking, the intuitive software enables users to more easily create project estimates, including shipping calculations, tax, and discounts. Online payment processes gives clients a simpler way to fulfil their invoices and a smarter way for users to keep track of payments. Invoices can be completed in multiple languages and multiple currencies, while the unlimited support is also available in various languages. In terms of security, the software has high level encryption along with safety measures for automatic backup of all data in the system. Importing and exporting data and reports is super easy, making this a great tool for start-ups with investors.
LessAccounting offers two setups - a DIY plan and a full bookkeeping services. The self-service plan starts at $20 a month and enables basic features such as invoicing, time tracking, and reporting. The full service, which ranges in price from $70 - $350+ a month, is far more comprehensive and includes a whole suite of end-to-end money managing tools. The more extensive package has a whole host of pre-contract tools, such as a business proposal creator, data importation, and budgeting capabilities. The contact management system keeps all data securely organized, while invoice, expense tracking, and reporting couldn't be simpler. The multi-currency capacity facilitates international invoicing and payments, while the system can integrate with a plethora of tools such as Highrise CRM, Paypal, InvoiceSherpa, ZenCash, LessTimeSpent, and Wagepoint. While it si powerful in its accounting functionalities, there are no tax tools with this system, and its is quite expensive compared to other small business accounting systems.
ZipBooks is a great tool for small startups looking to get going with accounting tasks. If you're moving from Excel spreadsheets to something a little more sophisticated, ZipBooks enables quick, easy integration of your old records, with a free Starter Plan to get you going. If you're looking to splash out, their top tier plan, at $125 a month, comes with a bookkeeper dedicated to your account! You can connect to all your banking accounts from this software to keep tracking of incomings and outgoings, while the system enables you to easily generate in-depth reports. The invoicing creation system enables you to create recurring and one-off invoices, as well as expense tracking and billable time functions. Be aware that there are no payroll features and you cannot track account payable, unfortunately.
Zoho Books is often revered as the top candidate for small businesses thanks to its competitive pricing and its simplicity. Zoho Books will synchronize all your accounts to enable invoice creation and distribution, along with expenses tracking and time tracking for billable hours. Users can easily create financial reports as well as automating certain workflow tasks, such as recurring bills. The dashboard is clean-looking and easy to move around, with clear data visuals to help to users see the state of the accounts at a glance. Integrating with popular payment platforms is hassle-free, such as WorldPay, WePay, Stripe, Square, Paypal, among others. The mobile app makes it easy to access the system from anywhere, whether that be from an iPhone, Apple Watch, Android, Windows phone, and so on. With 24 hour phone support 5 days a week, this platform is great value for money - starting at just $9 for the basic plan. For those looking for payroll features though, this doesn't incorporate any of these.
Serving over 20 countries in the world, SlickAccount is designed for small to medium sized businesses looking to cover a range of accounting tasks from invoice creation to tax and bookkeeping. With an intuitive interface, the modern design is well-presented making is operation obvious to users. Th security of the system is bank-grade, with all features compliant to GST. Users can utilize the platform for inventory management as well as recording and monitoring income and outgoings, while also using the tool for invoicing clients and accepting payments. In fact, one of the bonuses of this software is the fast payment processing. Another standout feature is the industry-specific tools that target trading, manufacturing, and service-based firms, enabling you to customize your dashboard to incorporate the tools that are relevant. Packages are priced according to your specific requirements.
With a modern aesthetics and intuitive dashboard, Online Invoices is a fully comprehensive solution that makes all aspects of accounting more simple for small businesses. Not only can you use this tool for invoicing, it also has features to assist with tax figures, financial monitoring and reporting, and payment facilitation. There is even an analytics system to help users get a better look at the flow of finances through the company. In fact, more than just an accounting tool, Online Invoices provides you with a ready-to-use CRM and sales tool to give you more control over your sales funnels and to help you list inventory. This gives you a smooth audit trail from shelf to sale and through to accounts and record. The system allows users to assign tasks to the team, and starting at only $9.95, it is a very affordable tool - especially since it is so feature-rich. Each package also comes with full support, where you can talk directly with a representative who will walk you through remedying any issues, step by step.
Wave Financial is a free tool for small to mid-sized businesses. There is a surprisingly extensive range of features considering it is cost-free, and works very well for smaller teams, freelancers, entrepreneurs, and consultants. The accounting software, along with invoicing and receipt scanning are all free, but if you would like to process payments and credit cards or add on payroll services, then you pay an extra cost. However, for the free plan, you can add as many employees as you like without paying any more. The system comes with the option of coaching plans, priced around $250, which help users to get to grips with accounting as well as the software itself. It's pretty easy to use for less complex accounting, and the account is customisable to create an aesthetically professional dashboard. The bank feed is an exceptional feature (it costs more) that allows you to synchronize with over 10,000 banking and payment institutions so that all of your transactions are added to your record in real time, while also backing up all records.It's easy to create financial reports, but you can't track billable hours and you can't create purchase orders. You'll also find the support options are limited to email-based responses.
JobPower is a tool dedicated to the construction sector, providing an industry-specific accounting tool that includes documentation and accounting features that are tailored to the construction. The $200 a month software is a full CRM as well as offering an advanced suite of accounting tools. The reporting system enables users to create records that meet all union and certified payroll requirements, saving users a great deal of time. Geared toward construction, the accounting software is set up to work as a job cost management system that integrates easily with a wide range of tools for better estimate, scheduling, inspection management, and so on - while providing a detailed job ledger report for each contract. The cloud-based software can be accessed remotely, and reduces the cost of data storage on servers. The mobile app is excellent, enabling employee time tracking and time card, documentation scanning and management, GPS location tracking, and reporting; all in one responsive interface. This is the ideal tool for construction companies looking to smarten up their records and save time and money on accounting.
A cloud-based solution for accounting, Crunched is relatively new to the scene. Aimed at freelancers and small businesses, the dashboard is fully customizable for easier use and has a sleek finish that's effortless to get to grips with. You're able to see everything immediately upon logging in, from cash on hand to the previous day's net income to the checkbook balance. Users can track the flow of cash through the system, while managing invoices, payments, and expenses with a few clicks. The management system keeps a clear record of clients and their transactions, while the system is fully compliant with all accounting laws and policies. The automation systems close accounts without needing human input, speeding up your payment flows, while larger companies can utilize the functions that come for multiple income streams. The dashboard has a great feature that enables users to alter viewpoints to see accounts across various time spans and as charts, reports, and graphs. The administration is very simple, making it less complex to assign roles and manage multiple users at once. If you're a business owner that struggles to keep track of ongoing subscriptions or repeat invoices, this is a great software for you. Also if you're looking to get all your reports ready for the close of year, this software is a super handy tool to have in your arsenal.
Invoice Meister is an excellent invoicing tool to ensure that payments are received on time and without any trouble. With basic plans starting as low as $10 a month, Invoice Meister enables users to invoice and track payments simply, while also reconciling bank activity for more comprehensive finance reports. The company is very user-centric, which can be seen in the elegant design of their interface, which works quickly and effectively, and exactly how users would imagine it would. The analytics engine built into the system enables instant reporting on profit and loss, and other balance sheet information to make more appropriate business decisions based on financial status. The competitive pricing does not compromise the support, which is helpful and responsive. The software helps users to save time by automatically updating balance sheets on receipt of client payments, while synchronizing expenses is as simple as taking a picture and uploading it. Fast, affordable, and well-supported, this software does everything it says on the tin - and extremely well.
OfficeWise is a great end-to-end accounting solution based on the cloud. Not only does it have accounting functions, the inventory management system embedded within it means that users can better handle shipments and track payments for each product at multiple locations, which can all be consolidated into a neat report. This software handles invoicing, billing, and expense tracking with no issues, while there are over 50 templates for visualizing this data through reports. Unlike some of the other softwares, users can create forecasts and prepare budgets for themselves in this system, to help plan for the future as well as record the history of all transactions. The month to month subscription takes the pressure off payment, while there is a free plan for very small business who don't need so much complexity in their accounting systems. One major downside is that the support only exists online - you can't phone anyone if you have an issue. Equally, there is little training for the software and few tutorials online to help users get to grips with it quickly.
This software is designed for small businesses, but offers enterprise-grade security to keep all data private and safe. Connecting to all major banks, the system automatically uploads bank feeds, to keep a direct record of all transactions across the multiple spending and payment platform. The dashboard is smart-looking, showcasing charts and graphs of current financial status and recent activity for more transparent insights, while the huge range of templates enables users to create professional invoices, purchase orders and reports extremely quickly. The system has multi-currency capabilities for all payments, whether they be through bank accounts or credit cards, reducing the time and money spent on foreign transactions. The whole system is very straightforward to set up, allowing users to transfer all your current records in an uncomplicated and timely manner. There is a basic free plan for smaller businesses, which can help potential customers to comprehend the system before paying for a plan.
---
Check out our reports of fast-growing tech companies with validated email addresses

Sales teams and investors rely on our in-depth reports of fast-growing tech companies to onboard new customers into their business. Now it's your turn. Check out our latest reports here →