Meet Asia's most active SaaS investors
---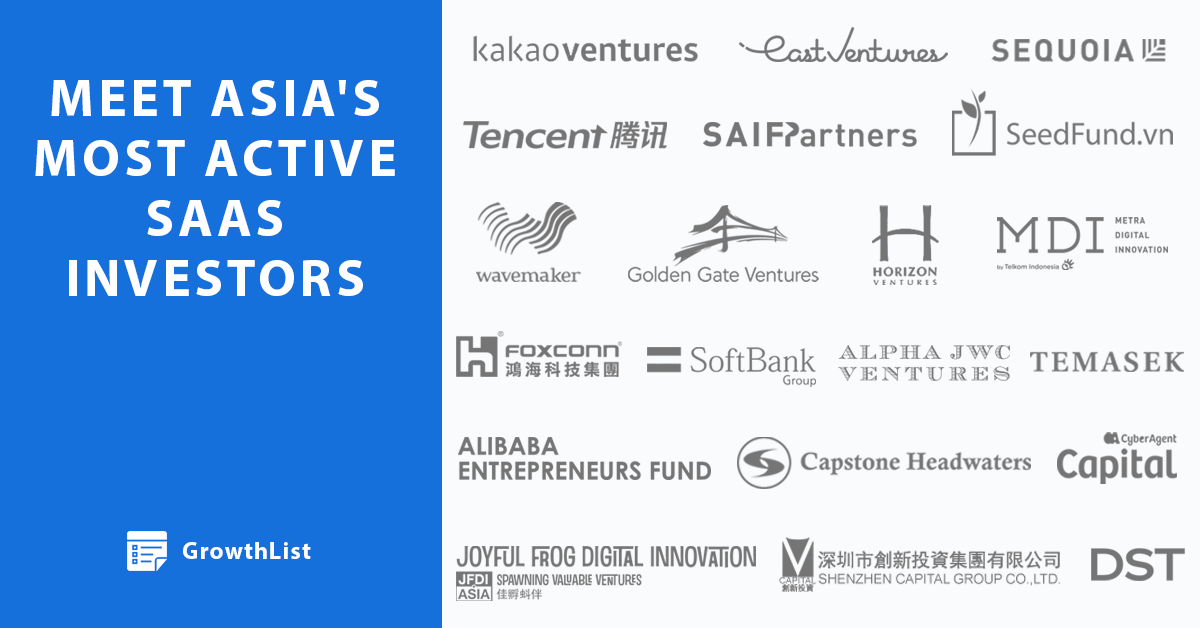 Meet the top SaaS investors in Asia, helping to pave the way for SaaS startups across the region
Software-as-a-service is becoming one of the most predominant models in this era's technological landscape, as it provides recurring income, while also providing a platform for which companies can develop their product without losing customer loyalty. Asia, is no different - VC's are pumping capital into SaaS startups to disrupt legacy industries and force open emerging markets more than ever before.
Here's what we're seeing with SaaS investments in Asia.
B2B SaaS is becoming extremely prevalent - From HR systems to forecasting software, Asian investors are backing a wide range of B2B SaaS softwares in 2019.
Supply Chain Management is the route to the world - Asian investors are supporting a large number of supply chain logistics platforms as they have the potential to create easier movement of goods worldwide, leading to bigger potential for startups to expand globally.
Local investment is reshaping economies - Often considered 'developing countries', investors in Asia are turning inward to promote native companies in order to boost economies.
Investors are bridging the Pacific gap - Many Asian investors are now opening offices on the West coast of the US, to help lead Asian startups into Silicon Valley.
SAIF Partners is a leading private equity firm from India that focuses its investments in Asia. The company doesn't solely aim its investments at technology, covering consumer products, financial services, and healthcare too, however they have a significant focus on technology, IT, internet, mobile, and cleantech.
Founded in 2001, SAIF Partners now has over $4 billion of capital to play with, having made over 100 investments to date. Recently, they have begun to focus more on SaaS projects, such as Goodera, a CSR platform to help companies manage their social and environmental responsibilities; Fareye, a platform for supply chain logistics; and Tracxn, a technology for helping venture capitalists with investments.
Horizon Ventures is a household name in tech investments in Asia. Hailing from Hong Kong, Horizon Ventures has been on the scene for over 20 years. They have a plethora of notable companies on their books including Siri, Facebook, and Skype. Investing across media, education, internet, telecommunications, and internet companies, Horizon Ventures has over $20 million in their current fund.
In terms of disruptive tech, they've turned their hand to supporting quite a few SaaS ventures recently, including Ezetap, a mobile point-of-sale system; and Right90, an on-demand forecasting and revenue performance management solution.
Founded in 2009 by notorious business mogul Yuri Milner (founder of mail.ru), DST Global (Digital Sky Technologies Global) is now one of the leading investors in technology businesses worldwide. They focus heavily on Asian ventures, bringing about a new model for liquidity that utilizes primary and secondary transactions, which has put them at the top of their game.
Having backed a whole realm of well-known companies such as Whatsapp, Spotify, and AirBnB, DST Global has truly adopted the promise of SaaS companies. Offering late stage investment, they currently have $1.7 billion in their fund. Some of their most notable SaaS clients include TravelPerk, a management system for travel companies; and Airwallex, a digital platform for cross-border transactions.
Investing in over 150 companies in Asia and the US, East Ventures is a cross-Pacific investment company that has offices in Japan, Indonesia, and the US. Their main interest is in developing technology ecosystems and have funded some pretty prosperous ventures, such as Waygo and Traveloka. Founded in 2010, they currently have $57.5 million in their fund and are offering investment at the early and seed stages of funding.
The company is led by prominent CEO, Willson Cuaca, who is also the CEO of Apps Foundry. On their SaaS docket currently, they have companies such as Betaout, a marketing automation platform for ecommerce businesses; and Medico, an Indian healthcare platform.
Founded by the Singaporean government, Temasek Holdings has been around since 1974, making them a veteran in discovering upcoming opportunities. Their focus is on companies that will help to build economies in the middle-income bracket, leading them to have a diverse portfolio in consumer and real estate, industrial companies, agriculture and life science, energy, and technology.
Aimed at bringing innovation to disadvantaged communities, they are looking for emerging game-changing companies that help to build economies. With economic patterns changing, SaaS has become a new way of working that's transforming access to goods and services, leading Temasek Holdings to support projects such as Mathan, an analytics platform for retailers; Flywire, a digital payments platform; and Cloudcherry, another customer analytics platform.
Tencent Holdings is the largest gaming and social media corporation in the whole of China, famous for creating the most popular messaging app in China, WeChat. They have a dedicated fund to build startups with the view of disrupting markets with emerging technologies. Investing at the seed stage, tencent Holdings Venture Fund has put money into over 600 companies so far, covering all aspects of technological advancement, from online media to electric car manufacturing.
Tencent Holdings don't release how much they have invested, by research shows that they put around $6 billion into startups around the world globally in 2017. They have been expanding their SaaS portfolio over the last year or so, bringing in projects such as Teambition, a team collaboration platform; and EasyRetailPro, a marketing and CRM platform.
Shenzhen Capital Group has been around for 20 years, having been started by the Shenzhen government to focus on venture capital investments in IT, energy, chemical engineering, and new media. Focusing on building up the national industries, Shenzhen Capital Group focus on transforming economies and nurturing new industrial opportunities.
With a registered capital of around $535 million, they tend to invest mainly in SMEs, especially in disruptive high tech in their startup and growth periods. In terms of SaaS, they have some interesting companies on their books including Virtual Halls, an event marketing platform; Asia Dairy Fab, ranch operation solutions; and Huaxuezoo, a management platform for sports centers.
Softbank are a prolific investor worldwide, founded in Japan. The venture capital firm is looking to providing funding to founders and entrepreneurs who are introducing disruptive technologies and solutions into emerging markets, specifically looking at SaaS as the predominant model of working. They have a phenomenal network of support coming from Yahoo!Japan and Alibaba Group, as well as Softbank Corp, enabling them to provide funding and expertise to their clients.
The team is small but comprises of top entrepreneurs and investors who work closely with the projects they take on, while managing over $600 in capital - this is used to work with a company from the early stages, through the growth cycles and out the other side. Some of their most recent SaaS endeavors include PayActiv, a financial wellness platform for employees, and EdCast, an AI powered education platform.
Capstone Partners is a venture capital company that focuses its investments in China and South Korea. They offer advisory services to their clients as well as investment, and are looking to promote middle-income business owners, tending to exit their companies through trade sales.
They focus their efforts on the internet, IT, and pharmaceutical industries for investment, while also offering corporate restructuring services for optimization in business and crisis management. Founded in 1996, they tend to work in the early stage funding rounds, working with SaaS companies such as Albam, a HR and payroll platform; and Fuze, a video conferencing software.
Based out of Tokyo, the Japanese venture capital firm CyberAgent Ventures invests in projects in China, Indonesia, Thailand, Taiwan, Vietnam, Japan, and South Korea. They only tend to work with internet businesses, providing both funding and expertise from the seed stages, right through to the later growth periods.
They currently have a fund totally $100 million, and have been investing in SaaS projects such as JAMJA, a promotion boosting platform for retail businesses; MoBagel, an analytics and data science platform; and Kyna, an elearning platform.
Golden Gate Ventures invests in firms in Southeast Asia during the early stages of their projects. They focus their investments on internet and mobile companies, covering a range of aspects from payments solutions to marketplaces. They are currently leaning more toward SaaS, but have previously worked with significant companies such as Paypal, Mint, and Sony.
They have invested in over 30 companies since they began in 2011, and are present in over 7 countries in Southeast Asia. Currently, they are investing SaaS companies such as TradegEcko, a supply chain management system; Pop, a software that turns physical sketches into prototypes; and Lenddo, banking software for the unbanked.
Seedfund are a Vietnamese company looking to plug startups in Vietnam's technology sector. They aim to boost passionate visionaries who are aiming to disrupt static industries with tech. They help companies to raise capital in the early stages through their expertise and complex networks. They have a strong connection with local business incubators, helping to bring their projects along the growth spectrum both financially and educationally in order to minimize investment risks.
While Seedfund have a strong tendency toward local companies, they source their investments from both within Vietnam and abroad. In their catalog right now they have a number of SaaS startups that they're pushing, including AxisRooms, a hotel management software, and BrownTape, an inventory management system.
Founded in South korea, Kakao Ventures has become one of the leading venture capital firms for early stage funding in the country. They are seeking visionary entrepreneurs who have disruptive technologies, and are offering their entrepreneurial expertise to incubate the businesses alongside funding. Their focus is on mobile and software, with a hard commitment to SaaS companies coming out of South Korea.
They are founder-centric, believing that strong leaders build strong companies, hence they dedicate a lot of time to training the people working behind the startups they support. Having started out in 2012, they now have $765 million in their pot, which they have directed toward SaaS companies such as Lunit, an AI deep learning software for medical imaging; Cashnote, a revenue management system; and WhaTap, a cloud-based performance monitoring system.
Sequoia Capital is one of the biggest investment firms worldwide. Their Sequoia China branch deals with investments in Asia, and it focuses on being 'The Entrepreneurs Behind the Entrepreneurs'. The team have nearly 50 years of experience behind them, which they funnel into the founders and startups they support, along with capital to help grow their ideas into market-disrupting technologies.
They focus their investments on 4 main areas, industrial technology, healthcare, consumer service, and technology, media and telecoms. Having been around for 14 years, they have invested in over 500 companies in Asia. Their SaaS ventures include Zarget, a web optimization and marketing platform; Mycolorway, providing both HR software and team collaboration solutions; and Joyowow, a company that provides social insurance solutions through an SaaS model.
Aiming their capital toward consumer technology and fintech, Alpha JWC Ventures is an Indonesian venture capital company. They have a strong team of entrepreneurs behind the investments, with many years of experience working operationally in the financial and tech markets themselves. With $100 million at their disposal, Alpha JWC Ventures brings companies from early stage funding right through to late stage investment.
They have a commitment to value-adding social innovation to help lift Indonesia up, while taking a disciplined approach to funding their companies, which involves long-term involvement in the startups they put money into. In terms of SaaS investment, they have brought on companies such as OnlinePajak, a tax management system; and Base.vn, a HR and team management enterprise platform.
Wavemaker Partners are looking to invest in charismatic, hard working entrepreneurs who are using technology to provide innovative solutions for analytics, automation, and intelligence. They are only looking for high impact solutions and invest both in US West Coast companies and Southeast Asian ventures.
Very specific in their targeting, they are looking to work with the future of data management for optimization of services, with $180 million at their disposal. They have several SaaS companies that work with them, but they too focus on data management, such they HR management platform, Yoi Corp; and the mobile-first client management tool, Pike13.
Foxconn Technology Group is an electronic contract manufacturing company from Taiwan that works across many nations. The world's largest electronics contract manufacturer, they have dedicated funds to help push startups into developing innovative products to help advance their own technologies.
The group was founded in 1974 and has since gone on to back a number of startups that help to solve problems with automation, mechanics, functions, and design. Their investments are stage agnostic, investing in seed, early and late stage venture. They have recently become more prominent in Saas investing, taking on companies like Vuclip, a mobile video services; and Cedexis, an application delivery platform.
JFDI, or Joyful Frog Digital Incubator, is both a venture capital company and a business incubator from Singapore. They tend to work with startups and early stage businesses, and have a 60% success rate of taking their companies from concept to $600k investment in less than 100 days. They are looking for companies that incite innovation in the workforce, and have partnered with companies like Bosch to help develop their founders as strong entrepreneurs and leaders.
They work with partners so that they can ensure long-term success from their startups, where they incubate them at the beginning with their company partners taking over to see their projects into the growth stages. Encouraging in-house innovation from their projects, they have seen to the growth of several successful SaaS startups including Tradegecko, a supply chain management system; and Healint, a medical analytics platform.
The Alibaba Entrepreneurs Fund is a non-profit arm of the company aimed at helping founders to realise their visions in innovation. The fund, which was started in 2015, tends to work with young entrepreneurs, with fund set up in Taiwan and Hong Kong to help local businesses. The companies aim their fund toward tend to be looking at developing dynamic products to help their local communities.
With over $127M in the fund, they are helping to nurture entrepreneurial spirit while tackling social issues simultaneously. They have supported several SaaS projects since their inception such as En-Track, a data analytics and intelligence platform; and Shopline, a platform for creating ecommerce stores.
Founded by Telkom Indonesia, MDI Ventures is a corporate venture capital program that invests in disruptive companies that work in the online, mobile, and media spaces. They have clear boundaries for the projects they accept, looking for next generation companies that will have huge impact on their areas, such as future communications. They are mainly investing in startups that fall in line with the products offered by Telkom, such as payment solutions, cloud computing, digital advertising, and telecommunications, but are also interested in backing Big Data companies, and mobile applications.
Though base in Jakarta, they have operations in Silicon Valley and Singapore, and are combining financial support with expert structural advice to direct companies toward success. Founded in 2015, they have $100 million in their fund, which they invest in both early and late stage ventures. Some of the SaaS projects they;ve been involved in include Cloudike, a cloud solutions company; and Anchanto, an ecommerce ecosystem.
---
Download a report of every tech startup getting funded right now

Sales teams and investors rely on our in-depth monthly report of tech startups getting funded right now. Download our latest copy here →